What To Do With An Old Conservatory – Consider These Budget Friendly Options
https://pureconservatories.co.uk/wp-content/uploads/What-to-do-with-an-old-conservatory.png
700
445
Kevin Rigg
Kevin Rigg
https://secure.gravatar.com/avatar/a168b99a92cc25f70738184a4eca67aa?s=96&d=mm&r=g
Has your conservatory seen better days? Have you recently moved into a house with an old conservatory and you're wondering what to do?
If so, you're in the right place.
We're going to tell you exactly what to do with an old conservatory, without breaking the bank.
You Can Improve An Old Conservatory By: 
Insulating the walls
Changing the glass
Create an open-plan space between home and conservatory
Replacing the roof with a solid system that improves thermal efficiency and aesthetic
Read on to find out more about these options.
__________________________________________________________________________
Want to discuss replacing your conservatory roof?
Call 0151 327 8095 or send an enquiry to book a free no-obligation consultation. 
_________________________________________________________________________
Read on for helpful tips on what to do with an old conservatory so that it can become a functional, usable space that adds benefits to your home once again. 
1. Insulating An Old Conservatory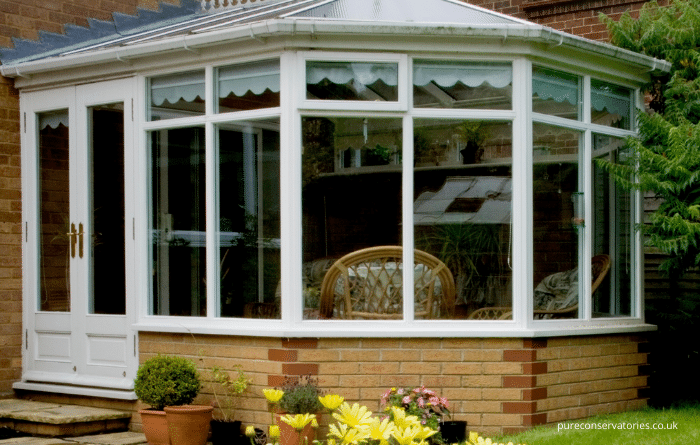 At Pure Conservatories, one of the biggest complaints we hear about conservatories is that they're too hot in the summer and too cold in the winter. This drastic fluctuation in temperature means they're only really usable for a small proportion of the year and as a result, these handy rooms end up being used for storage or just a walkway through to the garden.
Before you knock down an old conservatory because you're not getting the best use from the space, there are several cost-effective options that homeowners have at their disposal when it comes to improving the conservatory you already have to make it an inviting, usable space again.
Letting the cold air in is a common problem with older conservatories, but you can improve this problem by insulating the walls by injecting non-flammable foam into the walls. Conservatories with a 'dwarf' space below the windows can be insulated at an affordable price and may help to keep the space warmer in the winter.
2. Changing The Glass
Glass is typically not a very energy efficient material, so you'll find that a lot of heat is lost through your conservatory glazing. This is particularly the case if your conservatory is fitted with single glazed windows or a glass roof.
If you have an older conservatory, then changing the glass will give it both a new, cleaner look as well as the benefit of improving heat loss with new glazing technology. Reducing heat loss by replacing single glazed or poorly fitting windows can save you money on your energy bills, help to keep you warm in the winter and cool in the summer.
This could also include adding new patio doors to your conservatory to replace older sliding patio doors which may not be as energy efficient, whilst also improving the security of your conservatory.
3. Going Open Plan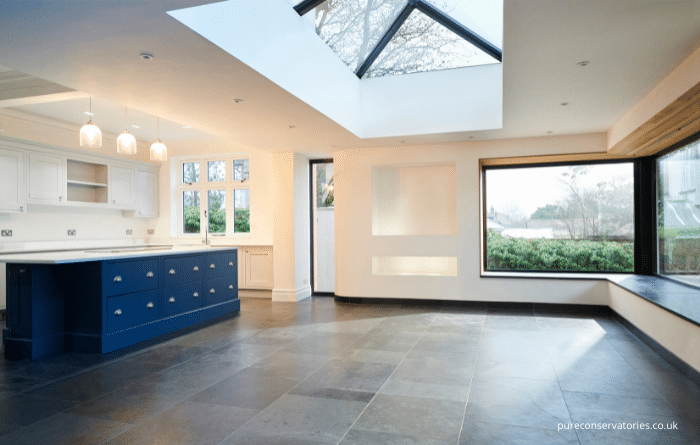 Do you feel like your conservatory is closed off from the rest of your home, meaning that it rarely gets used? If so, opening up your conservatory to create an open plan space could be a good option.
This can be done without planning permission, as long as the conservaotry is outside of the main thermal envelope of your home and you remove an internal wall or door to connect the two spaces.
This is a popular and cost-effective way of making the best use of a conservatory and updating your home without the expense of a single-storey extension. Using conservatories to expand the space you have to work with will bring a bright and airy, modern conservatory that you actually want to use.
4. Upgrading Your Conservatory Roof
If you've read through the options above and they don't seem to quite tick all of the boxes for you and you can't see yourself keeping the conservatory that you have, then changing the roof of your conservatory to a solid roof system could be the answer that you're looking for.
Changing the roof provides all of the benefits outlined for each option above including improved thermal efficiency, the ability to create an inviting open-plan space and improving the look of the conservatory, as well as being able to blend your conservatory into the main house by choosing finishes that complement your existing building.
If your existing conservatory currently has a glass or polycarbonate roof, it will have poor energy efficiency. That's why you've probably noticed that your conservatory is too hot in the summer and too cold in the winter.
Upgrading your conservatory roof to a solid roof system is a great way to improve your energy efficiency, reduce your energy bills and transform your existing conservatory into a versatile space that you can enjoy all year round.

What Is A Conservatory Roof System?
A roof system is a long-lasting and durable roof that will create an insulated space that allows for natural light to flood in, whilst having the benefit of regulating temperature. This means that when installing a conservatory roof system, you can say goodbye to walking into a greenhouse in the summer and shivering in the winter. This means you can turn your conservatory into a room that can finally be used all year round whilst creating an attractive look from the outside too.
Conservatory roof systems can be used to replace the roofs on existing poorly insulated conservatories or chosen as the preferred option when building a new conservatory from the ground up instead of the usual expanse of glass or heavy-duty plastic. They come in a range of styles and can also include a lantern to create an orangery. One more excellent bonus is that no planning permission is required and the system can be retrofitted to your old conservatory base.
Solid Roof Systems are:
Made to measure
Available in a variety of materials and finishes to complement your home
The most insulated roofing system on the market
Not required to have planning permission
Able to be plastered from the inside like a regular ceiling
Solid but lightweight
Retrofitted to an existing conservatory base in as little as three days
A great way to improve and extend your home and are cheaper than building works
Covered by a manufacturers guarantee
Introducing Leka
At Pure Conservatories, we are proud to supply and install the world-leading Leka conservatory roof system. Leka is a revolutionary solid conservatory roof system that has been designed and engineered in the UK. It offers unrivalled strength, durability, and insulation whilst being one of the most attractive products on the market.
One of the best things about the Leka roof system is that it has a U value of just 0.15. This is one of the lowest on the market, so you can rest assured that you're getting the most energy efficient roof system possible for your conservatory. This will transform your existing conservatory into a versatile space that you can enjoy all year round, no matter what the weather outside.
The Leka system can be tailored to match the existing roof of your home, enabling your conservatory to blend seamlessly with your home. Not only that, but the interior will be plastered, and you have the option to add spotlights and roof lanterns to further improve the aesthetics of your conservatory.
Installing a Leka roof system is one of the best things you can do during your conservatory refurbishment. Not only will it reduce your heating bills and give you a space you can enjoy throughout the year, but it will also modernise your conservatory and add value to your home.
Summary
If you have been wondering what to do with an old conservatory, we hope this article has given you some options to consider other than taking it down. At Pure Conservatories, our hands-down favourite option to improve an old conservatory is to replace the old roof with a solid roof system like Leka. This product will allow you to enjoy a customisable look that you love, thermal regulation, energy cost-saving, reduced noise and a cost-effective alternative to building an extension.
Due to its strength, customisability, cost-benefit, excellent materials and ability to provide a space that can be used all year round, a conservatory roof system like Leka is an excellent alternative to building a brand new extension from the ground up and can be retro-fitted to most existing conservatories.
If you're interested in finding out more or want to discuss the options you have for upgrading your old conservatory into a stylish and usable space, Pure Conservatories can help.
__________________________________________________________________________
Want to discuss replacing your conservatory roof?
Call 0151 327 8095 or send an enquiry to book a free no-obligation consultation. 
_________________________________________________________________________
Our professional team can replace your conservatory roof quickly and with minimal fuss and we work with customers across the North West including Wirral, Liverpool, Southport, Chester, North Wales, Shropshire, Manchester and Cheshire.
Where Are You Based? 
We are based in the Wirral but serve the surrounding areas, see the following pages for more details about our services and where we offer them:
conservatories Liverpool, orangeries Liverpool, conservatories & orangeries Chester, conservatories & orangeries Wirral, conservatories & orangeries Warrington, conservatories & orangeries Southport
If you are not in one of these areas please get in touch. These are our main focus areas but we're happy to have a chat about working in your area.