What Is The Best Conservatory Roof System
https://pureconservatories.co.uk/wp-content/uploads/What-Is-The-Best-Conservatory-Roof-System.jpg
700
445
Kevin Rigg
Kevin Rigg
https://secure.gravatar.com/avatar/a168b99a92cc25f70738184a4eca67aa?s=96&d=mm&r=g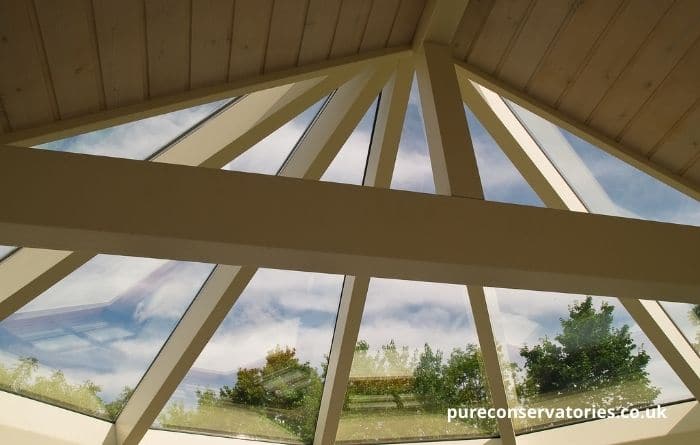 If you've decided to take the plunge and replace the roof on your conservatory, you may be wondering what is the best conservatory roof system to go for? As experts in conservatory roof installations, in our opinion, the Leka roof system is a solid conservatory roof system that beats glass, tiles and polycarbonate hands down due to its excellent insulation, hardwearing, tough, but lightweight composition, plus it comes with a 40-year manufacturers guarantee. Pure conservatories can install this solution across Merseyside, Cheshire and Lancashire. 
___________________________________________________________________
Want to discuss replacing your conservatory roof?  
Call 0151 327 8095 or send an enquiry to book a free no-obligation consultation. 
___________________________________________________________________
A conservatory is a great addition to a house if you're looking for extra space whilst enjoying the view out to your garden. If however you've already got one and are wondering how to make it usable all year round if it's too hot in the summer and freezing in the winter, or if you don't want the expense of installing a brand new extension, you could consider replacing your conservatory roof with a solid roof system for the best of both worlds. 
Conservatory roof systems can be retrofitted to most conservatories and create a stunning, usable space at a fraction of the cost of a full extension in as little as 3 days. 
Pure Conservatories specialise in installing solid roof conservatories and orangeries. Our team uses a system called "Leka" to build brilliant rooms quickly and simply, that can be used all year round. 
What Is A Conservatory Roof System? 
A roof system is a long-lasting and durable roof that will create an insulated space that allows for natural light to flood in, whilst having the benefit of regulating temperature. This means that when installing a conservatory roof system, you can say goodbye to walking into a greenhouse in the summer and shivering in the winter. This means you can turn your conservatory into a room that can finally be used all year round whilst creating an attractive look from the outside too. 
Conservatory roof systems can be used to replace the roofs on existing poorly insulated conservatories or chosen as the preferred option when building a new conservatory from the ground up instead of the usual expanse of glass or heavy-duty plastic. They come in a range of styles and can include a lantern to create an orangery.
What Options Are There
As you may expect, there are a variety of conservatory roof systems available including; polycarbonate, glass, or solid roofs. 
A glass roof will let the most light in and polycarbonate is the cheapest. The solid roof option is our preferred choice as it offers the best of all the others wrapped up into one solution to create a tiled and plastered roof replacement. 
A good solid roof system, like Leka, can allow plenty of light in, especially when installed with a lantern, is lightweight but very strong and can be styled to suit the aesthetic of your existing home. The Leka roofing system is one of the best conservatory roof systems on the market for its ability to help you to turn a heat box in the summer and an icebox in the winter into the functional, usable space that everyone dreams their conservatory will be. 
Find Out More About The Leka System  
As experts in conservatory roof systems, we only recommend and install the Leka roofing system at Pure Conservatories and have shared some of its key benefits to show you why we rate it so much below. 
Benefits Of The Leka Conservatory Roof System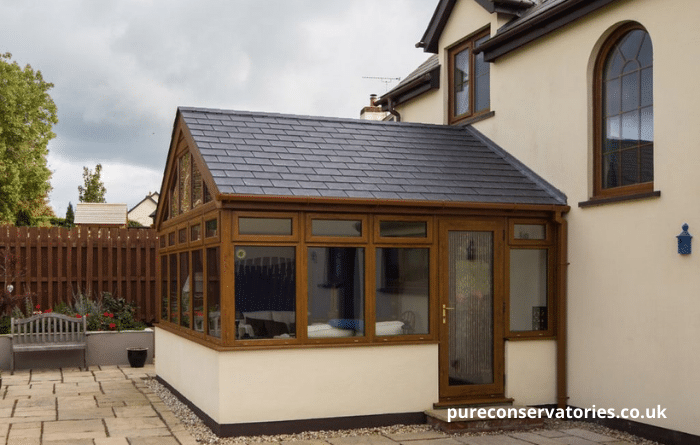 Made to measure 

It's the most insulated roofing system on the market. 

Sold but lightweight

Can be retrofitted to existing conservatory base in as little as three days 
Reduced Noise
The Leka system ensures you can still peacefully read a book when the weather is howling. Whereas traditional conservatory roofs have a reputation for being very noisy when it rains, you will barely notice the rain on under a Leka roof due to the excellent insulation – the best on the market. 
Professional Installation And Aftercare
When spending money on your home, you want to know you're investing in trusted and reliable parts and services. Every Leka roof comes with a 40-year manufacturer's warranty and Pure Conservatories installation work and materials come with a 10-year guarantee for excellent peace of mind.
Cost Saving On Energy
Nobody can relax in a hot, stuffy greenhouse, and this feeling is a thing of the past when your transparent conservatory roof is replaced with a solid system. What's more, the reduction in heat loss through the roof all adds up to a nice saving on your energy consumption and bills over time too! 
Built To Last 
The roof is made from glass-reinforced plastic which means that it is very light whilst also being extremely tough. These materials also ensure that mould or condensation issues, usually associated with poorly insulated conservatories, is a thing of the past. 
Savings In Comparison To Building An Extension 
By changing the roof of your conservatory to a solid one, you can make the most out of the space you already have without the expense of building a new room from the ground up. Leka is also JHAI compliant which means that you don't require planning permission to install it.
Choose Your Look
You can achieve a variety of different looks with the Leka roof system. Take a look at our gallery to get an idea of what your conservatory could look like with a new roof. The Leka system is available in a range of colours so that you can pick one that either blends in with the rest of your house or stands out and internally, the Leka roof system has a plastered ceiling. This means you can enjoy picking out lighting and decorative styles and colours to suit your tastes. 
Easy To Install
If you're not keen on the idea of building works dragging on, you're in luck. The Leka system is quick and easy to fit. Whilst the exact timeline will depend on the size of your conservatory and the specification of the roof system that you choose, it is possible to replace the entire conservatory roof in as little as three days. 
Summary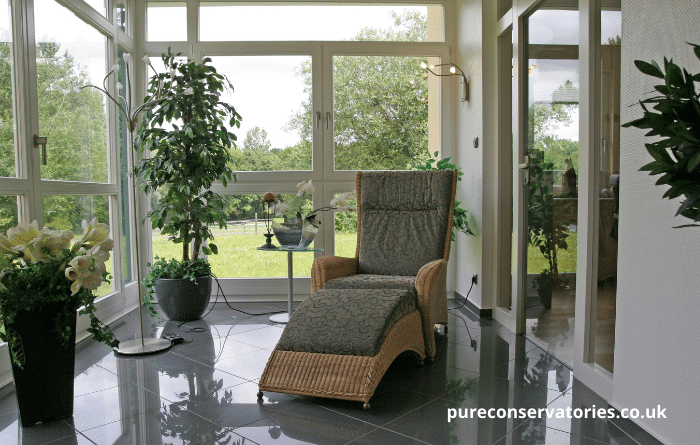 In answer to the question, what is the best conservatory roof system? We firmly believe that Leka is the best conservatory roof system on the market. 
Due to its strength, customisability, cost-benefit, excellent materials and ability to provide a space that can be used all year round, a conservatory roof system like Leka is an excellent alternative to building a brand new extension from the ground up and can be retro-fitted to most existing conservatories. 
If you're interested in finding out more, or want to discuss the options you have for upgrading your conservatory into a stylish and usable space, Pure Conservatories can help. 
________________________________________________________________________________
Want to discuss replacing your conservatory roof?  
Call 0151 327 8095 or send an enquiry to book a free no-obligation consultation. 
________________________________________________________________________________
Our professional team can replace your conservatory roof quickly and with minimal fuss and we work with customers across the North West including Wirral, Liverpool, Southport, North Wales, Shropshire, Manchester and Cheshire.