Opening Up Kitchen Into Conservatory – Consider these 6 Things 
https://pureconservatories.co.uk/wp-content/uploads/Opening-Up-Kitchen-Into-Conservatory-1.png
700
445
Kevin Rigg
Kevin Rigg
https://secure.gravatar.com/avatar/a168b99a92cc25f70738184a4eca67aa?s=96&d=mm&r=g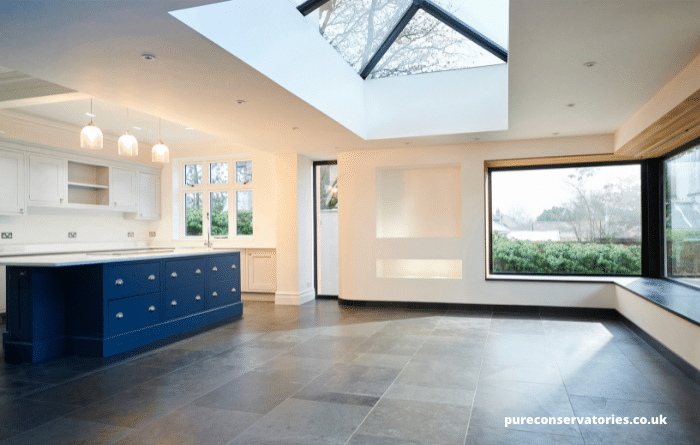 Whether you have an existing conservatory or not, if you are looking into renovation projects that will create more space or add value to your home then you might be wondering if opening up kitchen into conservatory building works is the right approach to creating the space and improvements that you need.
When opening up kitchens into conservatories you should consider: 
The material and structure of your existing conservatory
Building Regulations
Planning permission
Layout and positioning
Lighting and lanterns
Manufacturer guarantee of at least 10 years
A 2013 report by the government suggested that around 18% of homes in England have conservatories and with house prices rising all the time, the trend for extending and improving homes using the footprint they already have, rather than moving, has really taken off. This is why homeowners with an existing conservatory are frequently turning this often unused space into a beautiful and functional extension of their kitchen which can be used all year round.
If you have an existing conservatory and like the idea of turning it into a seamless extension of your kitchen, or would like to install a new one from scratch as a cheaper alternative to a single-storey extension to create an open plan kitchen conservatory, then read on as we cover the key things that you need to consider for these exciting renovation projects.
Things To Consider
The Material And Structure Of Conservatory 
If you have a very old or dilapidated conservatory, it may be hard to imagine turning it into a beautiful extension of your kitchen right now, but with the expertise of Pure Conservatories, you can easily improve or replace the structure you already have to create a look that blends perfectly with your home as if you'd built a more expensive extension.
As your conservatory will be the final barrier between your home and the elements in an open-plan kitchen conservatory project, it's important to consider how the materials and structure used will affect the temperature, lighting, thermal efficiency and noise of the room
Solid roof systems like Leka, which we use at Pure Conservatories, helps to regulate the temperature, heat and noise in the room all year round. When fitted, they look just like a regular plastered ceiling from the inside and a regular roof that matches the rest of your house from the outside. As they can also be fitted with stunning lanterns that allow natural light to flood in, they are a great way to create a usable conservatory space that blends seamlessly with the rest of your house.
Building Regulations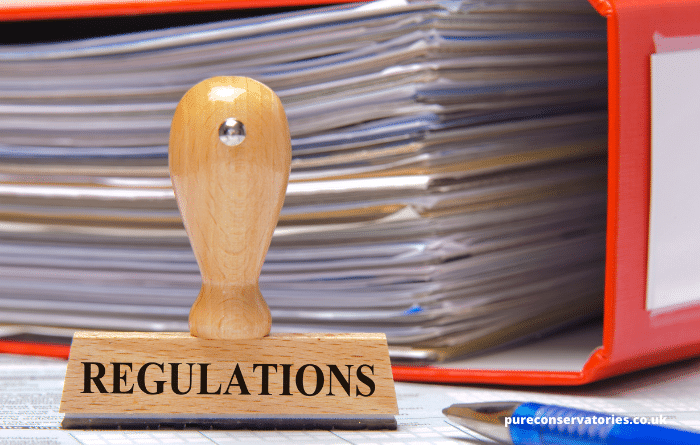 Building regulations are the standards that govern construction concerning safety, thermal efficiency and environmental impact and they must be considered when creating an open plan kitchen conservatory.
Your kitchen conservatory will be exempt from building regulations if: 
The floor area of that extension does not exceed 30m2 if the conservatory is wholly or partly glazed.
The conservatory has an independent heating system from the central heating of the house
The conservatory is built at ground level only
A thermal barrier such as a window or door exists between the main house and the conservatory.
Building Regulations will apply to open-plan conservatories if: 
You want to remove the exterior doors or walls between your kitchen and conservatory then you will require building regulations approval to ensure that the new opening does not cause the house to be any less energy efficient. Your conservatory installation team will be able to take care of the element of the project for you and oversee any applications that need to be made.
Planning Permission 
If you are converting your existing glass or UPVC type conservatory roof to a solid system then planning permission is not required. If you are building a brand new conservatory to create your open-plan kitchen area then you can also do this without planning permission if the following criteria are met:
The conservatory is no more than 4m high or 3m high (if within 2m of a boundary).
The conservatory does not cover more than half the garden.
The roof ridge or top point is not higher than the eaves of a property's roof.
Side extensions do not extend beyond half the width of the house.
Layout And Decoration 
A key factor to creating a usable open-plan space between kitchen and conservatories is to consider how decoration, furniture, lighting and soft furnishings can connect the two spaces as one. Using the same materials and finishes throughout will create a streamlined space and you can create different zones within it such as dining, seating or play areas by using the positioning of furniture and soft furnishings.
You should also take time to carefully consider the internal layout of your new space to prevent being overlooked by neighbours and have electrical sockets, TV aerials and plumbing installed where they will be needed as part of the build so you don't have to retro-fit and extend the build time.
Lighting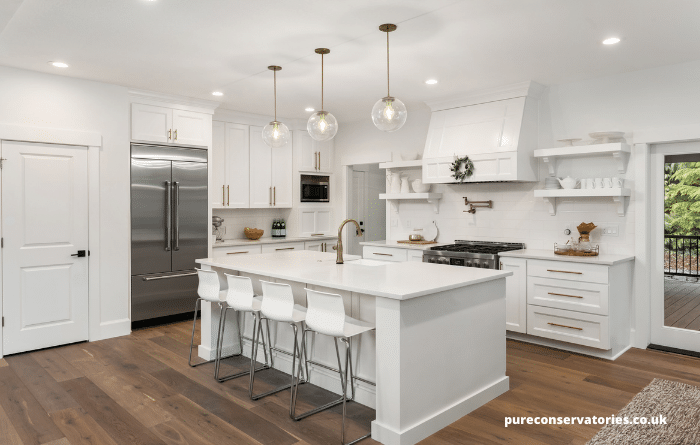 As lighting plays an important role in creating an atmosphere within your home, you should consider feature or statement lighting, task lighting and ambient lighting when opening up your kitchen into your conservatory.
One of the benefits of upgrading your existing conservatory or installing a new one is that you can create a brilliant lighting feature with the use of a lantern. A lantern is an area of glass in the roof of the conservatory that allows natural light to flood in and can be a great design feature over the main dining area for example.
Feature lights will highlight particular areas such as a kitchen island or dining area, task lighting will illuminate the key kitchen areas such as cabinets, food preparation areas or sink space and ambient lighting can change the mood of the room to suit the time of day or how the room is being used.
Manufacturer Guarantee
When spending money on your home, you want to know you're investing in trusted and reliable parts and services. Every Leka roof comes with a 40-year manufacturers warranty and our installation work and materials at Pure Conservatories come with a 10-year guarantee for excellent peace of mind when taking on building projects that enhance your kitchen and conservatory space.
Benefits Of Kitchen Conservatories
With most conservatories backing onto garden space, an open-plan kitchen conservatory is a great way to enjoy natural light and views available by putting the hub of your home as close to the outside as possible.
Using a conservatory to extend the footprint of your home is also a cost-effective way to get more space and add value with less expense than a traditional single-storey extension might cost to build.
Open plan kitchen diners are very popular due to the space and practicality they offer. Upgrading your home by creating an open plan kitchen conservatory space using a solid roof system is a great way to get even more from the space and achieve a stunning area to cook and enjoy as a family.
Ready To Open Up Your Kitchen Into A Conservatory?
Using the most innovative products available today Pure Conservatories install energy-efficient conservatories that are cool and glare-free in the summer, warm and cosy in winter, and noise-reducing to create a superb open plan kitchen conservatory space. We can work with you to build a new conservatory from scratch or replace and adapt what you already have.
Where Are You Based?
We are based in the Wirral but serve the surrounding areas, see the following pages for more details about our services and where we offer them:
conservatories Liverpool, orangeries Liverpool, conservatories & orangeries Chester, conservatories & orangeries Wirral, conservatories & orangeries Warrington, conservatories & orangeries Southport
If you are not in one of these areas please get in touch. These are our main focus areas but we're happy to have a chat about working in your area.