Should You Replace Your Conservatory With An Extension? Consider These Crucial Things.
https://pureconservatories.co.uk/wp-content/uploads/Should-you-replace-your-conservatory-with-an-extension.png
700
300
Kevin Rigg
Kevin Rigg
https://secure.gravatar.com/avatar/a168b99a92cc25f70738184a4eca67aa?s=96&d=mm&r=g
Whether you think a conservatory is a brilliant bridge between your home and outdoor space, or a wasted space that is too hot in the summer and too cold in the winter, then you may be wondering how to get the best from the conservatory you have, or even if replacing it with an extension is the way forward.
Conservatory Vs Extension
If you find yourself in either of these scenarios, asking if you should you replace your conservatory with an extension is a very common question. Whilst this is absolutely possible, and a viable option, there are also more cost effective, less disruptive, and eco-friendly options available to you, that you may not have previously considered.
With advances in conservatory roofing systems, you no longer need to replace your entire conservatory with an extension to get a beautiful, functional space – you can simply replace the roof.
The Leka roof system converts your traditional conservatory roof into a solid roof that creates a room that is far better insulated, cheaper to install than extension building works, and much less disruptive than traditional home improvement projects. This means that homeowners can save their time and cash, but still end up with a usable conservatory that meets their needs and can be used all year round.
Read on to discover the pros and cons of building an extension or upgrading your conservatory roof, as well as everything you need to know about the Leka roofing system.
________________________________________________________________________________
Want to discuss replacing your conservatory roof?
Call 0151 327 8095 or  send an enquiry to book a free no-obligation consultation. 
_____________________________________________________________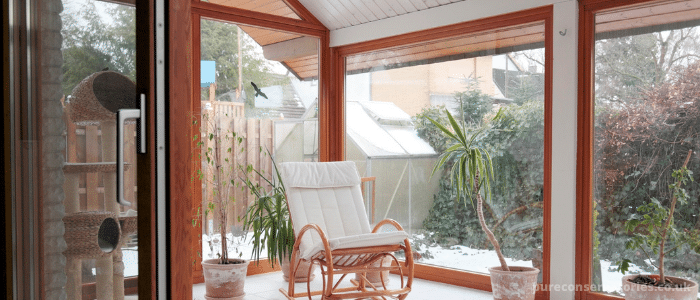 Things To Consider
Maybe you're looking for additional space at home and are torn between building an extension or installing a conservatory? Perhaps you have purchased a house with an existing conservatory and you're weighing up your options before deciding if you should keep it or ditch it for an extension?
Whatever your reason for considering if you should replace a conservatory with an extension, ultimately the decision is yours and yours alone. To help you though, we've outlined the main pros and cons of each option, as well as some key factors to consider before starting any building project in order to help you decide which is the right route for you and your family to take.
Consider these three things:
What will the space be used for? If you're in need of a new bedroom, then a conservatory probably isn't the best option, but if you have visions of dining and relaxing in a beautifully designed space overlooking the garden, then a well insulated conservatory ticks all the boxes!
Where is the space? If your conservatory or extension is built, or will be built on an east facing elevation then you can expect to enjoy morning sun. If located on a north-facing side of the house, then you get a bit of morning sun and a bit of evening sun. For west facing builds, afternoon and evening sun will be available. Knowing the amount of sun the room gets will help you make important decisions about ventilation, shading and lighting to ensure the room is as enjoyable to use as possible, any any time of the day, all year round.
What is your budget? Any building project comes with a price tag but the amount you shell out varies greatly depending on whether you chose to upgrade your conservatory or build a whole new extension. Replacing the conservatory roof, or even building a whole new conservatory is usually cheaper than building a single-storey extension of the same size. Obviously costs will vary depending on the size, complexity and quality of materials used but if budget is a big factor for you, then you might want to consider alternative options to replacing your conservatory with an extension.
Weighing Up Your Options
You may find that after giving the three points above some thought, that you already know one way or the other if you will replace your conservatory with an extension. If you're still undecided though, here are a few pros and cons for both conservatories and extensions to have a think about too.
Consider

Conservatory
Extension 

Pros

No planning permission needed 

Don't always need planning permission

Cheaper than extensions and easy to install, works are usually completed within a week.  

A great alternative to moving home that you can tailor to your family's needs. 

A room with a view and plenty of light 

Can enhance the look, functionality and feel of your home which can all add value. 

Roof can be replaced easily to make the room more usable

Can be designed to seamlessly match your existing home

Can provide the additional space you need. 

Adds value to your home 

Cons 

Often come in pre-set designs or sizes but can be custom built for additional cost 

Alterations and additional work can be expensive and hard to do once initial build is complete 

Can get hot, stuffy and be poorly ventilated without proper insulation and well thought out doors, windows and heating solutions.

Planning permission might be needed if you are building a large or high extension

Older conservatories are sometimes not very aesthetically pleasing

Can be a time consuming, expensive and stressful option 

Poorly designed extensions can look 'stuck on' if they don't match the look and feel of the rest of your home. 
Considered Replacing Your Conservatory Roof Instead?
As you can see, there is plenty to think about when making the decision of whether to replace your conservatory with an extension, or keeping and upgrading your existing conservatory. Depending on your individual circumstances, time, appetite for stress and how big your budget is, you may have more points in the pros or cons column than we have listed.
If you have weighed up the points above, and are ready to give serious thought to replacing your conservatory roof instead of replacing it with an extension, then the Leka system could be just what you need.
The Leka roofing system is one of the best options available on the conservatory roofing market. Below, we've outlined all the information you need to know about changing the roof on your conservatory to enjoy the more functional and usable space that a brand new solid conservatory roof can offer.
What Is Leka?
The Leka roof system is a made-to-measure solid, but lightweight roof system that can be retro-fitted to your existing conservatory in as little as three days.
Why Use Leka?
Traditional conservatories are old news! Due to their poor insulation, many people find them too hot in summer, too cold in winter so they end up with an unusable space that is only gathering dust and storing old appliances that haven't made it to the tip yet.
By changing the roof of your conservatory to a solid one, you don't need to go through the expense of building a new room in your house, you can simply make the most of the one you already have. Installing the Leka roofing system is a great way to save on the cost of replacing your old conservatory with an extension, and for peace of mind, every Leka roof system comes with a 40-year warranty and is JHAI compliant which means you don't require planning permission.
________________________________________________________________________________
Want to discuss replacing your conservatory roof?
Call 0151 327 8095 or  send an enquiry to book a free no-obligation consultation. 
_____________________________________________________________
What Will My New Conservatory Roof Look Like?
Just one of the brilliant benefits of the Leka Roof system is that it comes with a tiled finish in a choice of colours. This means your improved conservatory will now blend in with the rest of your house and start to look more like an extension. On the inside, you will have a plastered ceiling which can come with spotlights or lighting of your choice, leaving you with a blank canvas to decorate as you please.
Take a look at our gallery to get an idea of what your conservatory could look like with a Leka roofing system.
What Is It Made From?
The roof is made from glass-reinforced plastic – this means that it is very light whilst also being extremely tough. These materials also ensure that mould or condensation issues, usually associated with poorly insulated conservatories, is a thing of the past.
How Long Does It Take To Install?
We know that embarking on any kind of home renovation or improvement project brings most people out in a cold sweat. If you're worried about noise, disruption and weeks of building work, then please don't be.
We can assure you that the professional team at Pure Conservatories can replace your entire conservatory roof with minimal fuss and disruption in as little as three days but the exact project timeline will depend on the size and specification of your existing conservatory.
Most projects take between 3-5 days to complete and then the finishing touches and deep cleaning aspects can take an additional day but however long your project takes, we will ensure you are informed of the entire process before work begins.
Benefits To The Leka System
If you're still reading, then you may be convinced of the benefits of changing your conservatory roof over replacing the whole thing with an extension, but what benefits can you expect to see from your new Leka roof?
Reduced noise
No glare or overheating
Reduced energy bills
Professional installation and aftercare
GRP – glass reinforced plastic eliminates risk of wood rot, swelling, condensation, sweating and damp.
40 year manufacturer warranty and insurance backed -10 year guarantee on workmanship.
Rain, Glare, Costs And Warranty
The Leka system can weather the biggest of storms without disrupting your peace and quiet when the rain is lashing down. Traditional conservatory roofs have a reputation for being very noisy when it rains but you will barely notice the rain on your Leka roof as noise is significantly reduced due to it being the most insulated roofing system on the market.
When spending money on your home, you want to know you're investing in trusted and reliable parts and service. Every Leka roof comes with a 40-year manufacturers warranty and our installation work and materials comes with a 10-year guarantee for excellent peace of mind.
Nobody can relax in a hot, stuffy greenhouse, and this feeling is a thing of the past when your transparent conservatory roof is replaced with a solid system. What's more, the reduction in heat loss through the roof all adds up to a tidy saving on your energy consumption and bills too!
Related Questions
Do I need Planning Permission To Change My Conservatory Roof?
Conservatories don't require planning permission so long as you adhere to your local authority guidelines. However, the LEKA roof system does come with JHAI system approval, which means that you don't require planning permission, meaning there are no hiccups when it comes to selling your home.
Will I Lose The Natural Light If I Change My Conservatory Roof?
The type of roof you have on your conservatory will of course impact the amount of natural light that enters the space. Depending on how you use the room, and whether you like the greenhouse effect that full glazing provides a little more or less light could be a good thing! If you opt to change your conservatory roof to offer better insulation, heat regulation and energy efficiency, then you may lose some of the light that you previously enjoyed.
If replacing a fully glass or UPVC roof with a solid roof system, such as Leka, then yes, there will be a reduction in natural light. You can however specify that you would like your new solid roof to include roof lights and built in electric lights of your choosing to ensure you achieve the desired lighting levels in your updated conservatory. You may even be surprised just how light and airy your conservatory still feels after changing the roof. Take a look at our gallery to see our previous customer installations.
Summary
If you're seriously considering replacing your conservatory with an extension, we hope this post has given you plenty of food for thought.
We've taken you through;
the key things to consider before replacing your conservatory;
the pros and cons of house extensions vs conservatories
an overview of innovative roofing systems like Leka, that can make keeping your conservatory a viable option and a brilliant way to claim back a usable space without the expense and effort of a full extension project.
Remember to consider the budget you have, how the room will be used, and how the elevation of the conservatory in relation to the sun will affect the amount of light and heat that you need to allow for when considering ventilation, heating and access in your conservatory or extension.
In short, the decision to replace your conservatory is yours and it can be done, but there are other viable options that could get you the outcome you want. Whether you're installing a new conservatory from scratch, or adapting your additional one, our Pure Conservatories team will guide you every step of the way whilst installing a high-quality structure that enhances the look and value of your home.
Where Are You Based?
We are based in the Wirral but serve the surrounding areas, see the following pages for more details about our services and where we offer them:
conservatories Liverpool, orangeries Liverpool, conservatories & orangeries Chester, conservatories & orangeries Wirral, conservatories & orangeries Warrington, conservatories & orangeries Southport
If you are not in one of these areas please get in touch. These are our main focus areas but we're happy to have a chat about working in your area.