Front Conservatory (Gable Conservatory)
https://pureconservatories.co.uk/wp-content/uploads/front-conservatory.jpg
1024
512
Kevin Rigg
Kevin Rigg
https://secure.gravatar.com/avatar/a168b99a92cc25f70738184a4eca67aa?s=96&d=mm&r=g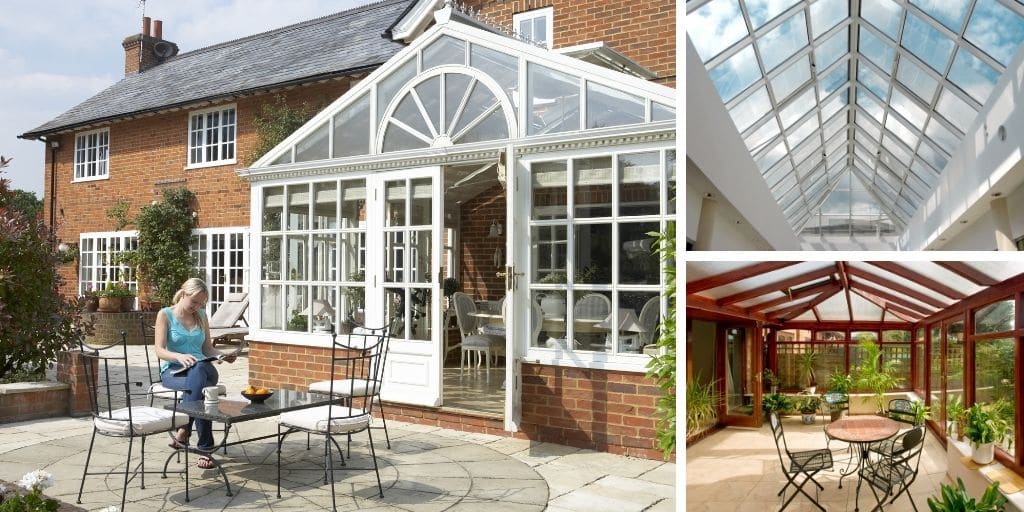 A front conservatory (also called a gable-fronted conservatory) is a great way to add light and space to your home. The roof of this type of building meets in the middle, giving it an appearance similar to that one might see on houses with traditional pitched roofs.
In some ways gable conservatories allow people to upgrade their homes. Modern style conservatories are a popular choice if busy homes need extra space. With a stylish, high-density roof in the mid-section, the shape of a gable-style conservatory reflects the type of roof typical on houses.
Gable front conservatories fit all house types including – period houses, bungalows or modern. Our expert team is ready and accessible throughout this process. We can offer practical information and helpful input throughout this process of designing a new Front Conservatory or gable-end.
Can you put a conservatory on the front of your house?
Yes, you can put a conservatory on the front of your house. This is because it's considered an extension that will have its own entrance and land thus being exempt from needing Planning Permission for alterations or extensions up to 2 storeys high as long as no other buildings are surrounded by 50% coverage – which would include backyards where there isn't room enough left over after adding this new room!
Gable-End Conservatory Designs
Gable conservatories are the perfect solution for homes with high ceilings. They add height and balance in a way that not only complements these types of properties but also makes them unique too!
For those looking to avoid restrictions on building heights or would rather have an open-air space than enclosed rooms built into their house plan layout – we offer box gutter roofs which allow you plenty of flexibility when designing your own custom design from scratch based on our wide variety available styles like hipped back roof models without any restriction whatsoever; choose what best suits both your needs today as well as tomorrow by selecting one out there already designed just right specifically for your property.
We can design a space that's completely customisable to suit your needs. Whether you want the gable roof and bay windows or something more modern, we have many different options so it will be just what you imagined!
Do conservatories need building regulations approval?
Some conservatories, summer houses and sheds can be built without requiring approval from building regulations. The general rule is that if they're small (less than 30 square meters), or made of non-combustible material like glass, brick or concrete block; then it will not need to submit any sort of application for approval as long as these conditions are met in your area too!
Conservatories are generally built of mostly translucent walls and roofs, with an external type door separating them from the rest of the house. So unless there are circumstances, such as drainage or a restrictive covenant you should be fine but it's always best to check.
Speak to our team for more advice.
Other things to consider when planning a conservatory
If you want to build on or within three metres of a public sewer you must ask for permission from the regional water board.
Some properties are designed with restrictive covenants on them and some have private agreements that outline different ways to keep them from going unclaimed. If this is the case, you can build a conservatory in your home if the design is compatible with the property's overall looks and the property respects certain permitted development requirements. Sometimes party wall agreements are necessary to clear out lands close to your neighbour property. You must notify your neighbour in writing at least two months in advance about construction.
Is it possible to modify existing homes with gable-end conservatories to fit in with the rest of the structure?
Yes! Our conservatory designers will always work closely with you, helping you to perfectly tailor your design to both meet all your requirements and also look great too!
Gable-End Conservatory Designs
From glazing to gable roof conservatory choices you control everything. Gable Conservatories perfectly complement houses with high ceilings due to the balanced height in the roof.
If you have height restrictions we supply hipped-back roofs with a box gutter to create a conservatory that fits the needs of your home. The system is self-cleaning which means that the space has minimal maintenance. You are freely allowed to pick which doors and window frames best suit you.
Gable-end conservatories are ideal if you want to design your interior space to match the style of your property's exterior. This is often the case with home extensions, as people generally prefer a structure that incorporates both sides of their buildings if possible. In this situation, a gable-end conservatory will work well with your home's existing exterior, while at the same time offering you extra room to move round in.
How big can you build a conservatory without planning permission?
The size of your conservatory may depend upon the size of the property you're extending. However, without the need for planning permission, a conservatory shouldn't exceed 25% of the original home. How far away you can create exterior walls is also controlled if you want to avoid planning permission. For a conservatory over 30m2 there need to be building codes on hand.
Gable Conservatory Styles
Gable conservatories are available with a wide range of roof styles. Depending on the style of your home, there's sure to be one that matches it perfectly. For example, if you have an Edwardian-style house, a cedar gable conservatory will create a timeless piece of design – offering practicality for storage and plants too.
Using the roof conservatory to create a unique space that corresponds to your house is possible. For example, if you have an Edwardian-style house, a cedar gable conservatory will create a timeless piece of design – offering practicality for storage and plants too.
Where Are You Based?
We are based in the Wirral but serve the surrounding areas, see the following pages for more details about our services and where we offer them:
conservatories Liverpool, orangeries Liverpool, conservatories & orangeries Chester, conservatories & orangeries Wirral, conservatories & orangeries Warrington, conservatories & orangeries Southport
If you are not in one of these areas please get in touch. These are our main focus areas but we're happy to have a chat about working in your area.