Conservatories have changed
Pure Conservatories are proud to announce the Leka system for conservatories in Warrington. You used to be able to only use your conservatory during good weather and only if it wasn't too hot and sunny. Those days thankfully will soon be behind us as more and more properties in Warrington switch to the new Leka warm roof system.
Call: 0151 327 8095
The Leka system helps bring down your energy bills

It prevents glare from the sun heating your conservatory up too much

Rain noise and external sounds are greatly reduced

The new roof system allows you to use your conservatory or orangery all year round
Thanks to the new Leka warm roof system Pure Conservatories are now able to offer you a conservatory, sun room or orangery that you can use regardless of the weather outside. The older style traditional style of conservatory that you see in Warrington is started to disappear and are being replaced with a new solid roof style instead. If you wanted an extension to your home you can now have it at a fraction of the price.
Not only are they very energy efficient but they also look fantastic too! With tiles to match your existing property wherever possibly you can make your property really stand out among the plethora of ageing PVC or glazed conservatories.
It usually only take between 7 and 10 days thanks to the modern groundwork which requires a much less intrusive base and ease of installation. All builds are carried out by time-served and fully qualified trades people who have worked in and around the Warrington area for many years.
The Leka 'Warm Roof System'
With the Leka warm roof system you can now use your conservatory all year round without being disturbed by excessively loud rain on the roof or by the ambient temperatures keeping you out of the room when it is too hot or cold.
Leka is leading the way in the market place for a solid roof system and Pure Conservatories are proud to be offering this service to the people of Warrington. We work to highest quality including a smooth plastered ceiling finish and tiles to match your current roof.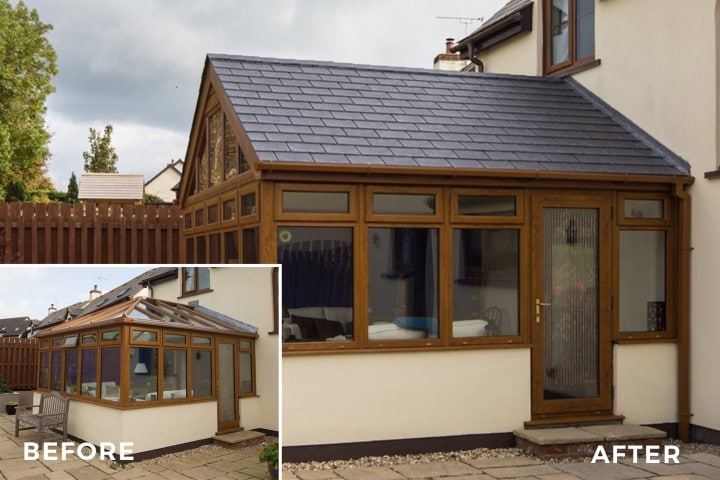 Construction
We only ever use market leading products of the highest quality that ensure that your build will not only look stunning but also built to last. The whole process can be completed usually within 10 days and we offer a 10 year guarantee on our work, the Leka system materials offer a 40 years guarantee.
ROOF
The roof we prefer to use is the 'warm roof' system by Leka and although there are other solid roof systems available, the Leka has a very low u-value rating (0.15) which compared to other products is incredibly good. Each product is bespoke to your design and build, is lightweight and built to last. Find out more about the Leka roof system here.
Base
The base is an important part of the energy efficiency factor and so we can use a concrete base system which is a traditional approach or we can use the more modern prefabricated system which is quicker, more energy efficient and can be worked around obstacles such as drainage pipes and manholes. A prefabricated system has a low u-value of just 0.18 and is JHAI approved.
Glazing
We use internally beaded custom fit windows for durability, strength and security. The windows we use are created bespoke to your build and we only use A-rated products of the absolute highest standard, we never compromise on quality.
We only use the best A-rated glazing possible. All of our windows are built for security, durability and strength and will be constructed and assembled to the highest of standard. It is our principle that all work will be carried out to the absolute highest standards possible without compromise.
Walls
We can build a full height wall into your conservatory as long as the glazing remains within the 50% mark so it can still be classed as a conservatory otherwise your build may be classed as an orangery. Speak to our team about your requirements and we will offer the best advice possible.
We can finish your new home extension with a number of lighting, heating or flooring types. We will advice you of your options during the consultation with our customer service team.
Your Pure-installed conservatory
Reduced noise
A solid roof means there will be no more loud noise of rain making it difficult to use the room in wet weather. It also means that outside sound is greatly reduced as the solid roof repels noise better than a glass or plastic roof. Fitted with triple glazing and a prefabricated based, your conservatory or orangery will be much quieter than a traditional build.
No glare or overheating
Older styled conservatories let too much light in when it is sunny and because the heat has few ways to escape it heats it up like a greenhouse. Those days are gone too with the new solid roof system as sunlight is blocked from entering the roof which helps keep it cool.
Minimal energy costs
The newer system is much more energy efficient than older style builds thanks to the way the energy is managed. Less ways for heat to escape means better energy rating and less time to heat and cool your new room too.
New build conservatory process
The first part of the process is to meet our customer team. We serve Warrington as well as a number of other local areas (Liverpool, Wirral, Chester, Southport, Wrexham to name a few) and are happy to visit you in your home for a friendly chat.
We can make an assessment based upon the current property you have and the design and style of conservatory or orangery you would like. That will allow us to give you a price and estimate of how long it will take to complete.
Most of the projects we undertake, although subject to the weather, take between 7 and 10 days to complete with a couple of extra days for cleaning and final finishing.
Our customer satisfaction is everything to us and we have built up a solid reputation in the Warrington area for providing first class workmanship and customer services.
We're also proud to offer an insurance-backed 10-year guarantee on all our work. All components of the Leka roof system have a 40-year warranty.
Ask us about finance
If you'd prefer to spread the cost of your new conservatory, we have finance options available.
Please ask us for more information.
Frequently Asked Questions
Do I need planning permission?
No you don't need planning permission but you should be aware of the local authority guidelines and our team can help you with this. If you decide at any point to sell your home it is worth making you aware that the Leka roof system is JHAI system approved.
Will a solid roof make my conservatory dark?
We do hear this a lot and the short answer is no it will not make your conservatory dark. There will be some loss of light because you are effectively covering up your glass or plastic roof but your new roof can be completed with ceiling lights to replace any light loss. You also still have many windows to let light through into the room. When finished with a fresh coat of white paint, you'll be surprised how airy it feels – just look at our gallery.
How long will my conservatory take to be built?
We are subject to the British weather but most projects take between 7 and 10 working days but it really does depend up on the size, type or complexity of the design. We will cover this with you during your no obligation quote and keep you fully informed along the way.
What is an insurance-backed guarantee?
Our 10-year guarantee backs up any work that we carry our and the materials that we use. It even covers you even if we cease trading or for reasons beyond control are unable to complete your installation. Our company are vetted and insured by HomePro and have an average rating of 9.3/10 which we are very proud of.
Warrington conservatories are changing forever and we're leading the way and proud to serve our customers in Warrington.
Testimonials
We can't believe the difference it's made! Our conservatory has become our main reception room.
Very happy with the job they did, makes a huge difference to our home. Friendly professional fitters.