Conservatories have changed
Southport conservatories are changing. Traditional builds are now being phased out in favour of the more energy efficient solid roof system which allows you to use your extended living space year round. Pure Conservatories are proud to be leading the way in the Southport area when it comes to the new Leka roofing system.
Call: 0151 327 8095
Less heat loss means lower bills

No more glare from the blinding sun

External noise greatly reduced especially rain on the roof

A nicer room to be in during any season
Not only does a conservatory or orangery with a solid roof look more visually appealing but it is more energy efficient and allows you to use the conservatory as a home extension rather than a room that you can only use in certain times of the year.
Our conservatory and orangery builds use the new Leka warm roof system which is changing the face of the conservatory marketplace as the older style glazed or PVC roof is now being phased out. You may have already started to see some of these in the Southport and surrounding area.
Our team of time-served tradespeople and customer service representatives have served the Southport area for many years and have built up a solid reputation which we are very proud of and always keen to impress. With the minimum of fuss and intrusion most builds are completed within 10 working days and are guaranteed for 10 years (Leka materials for 40 years).
The Leka 'Warm Roof System'
With the new Leka warm roof system you are now able to use your conservatory all year round. The weather no longer matters if it is too hot or cold, you can now use your conservatory whenever you choose.
Pure Conservatories are leading the way in Southport when it comes to conservatory builds and are champions of the best solid roof system on the market – Leka.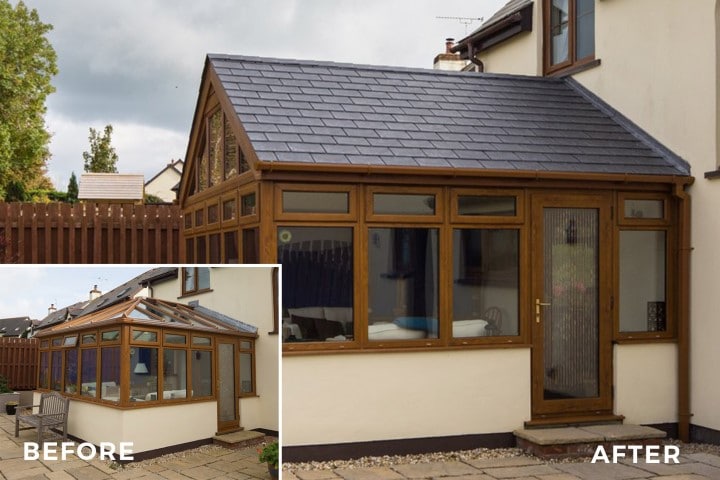 Construction
Rest assured that our team only ever use the best market-leading products available and we absolutely will not compromise on our build quality. All of our constructions are bespoke to the size, shape and complexity of your property and comes with a 10 year workmanship guarantee.
ROOF
We design and build our conservatories, sun-rooms / orangeries using the new Leka warm roof system which has one of the lowest u-value ratings on the market set at just 0.15. Each system is made to measure and will be created in a bespoke manner to suit the type of property you have and the particular design of project agreed. Find out more about the Leka roof system here.
Base
There are two types of base or ground-work that we can offer and they are a solid concrete base or the more modern and newer prefabricated type which has a low u-value of just 0.19 and is JHAI approved. Although both types will improve the overall efficiency and reduce the loss of heat from your room the prefabricated system is designed to be less intrusive with less groundwork involved which takes into account obstructions such as pipes and manholes on your property.
Glazing
All of the glazing that we use on our builds is used with durability, strength and security in mind. We only ever use the highest grade A-Rated windows and we will never compromise when it comes to ensuring that highest quality materials will always be used.
Walls
A conservatory does need to have 50% glazing to be classed as a conservatory and orangeries are less so but we can construct your build with full height walls so you can mount a TV, electric heating or other things to it. Have a chat with our team to find out more.
There are a variety of ways that we can finish your build to your liking including mood-lighting or electric heating including log burners. We can also show you a wide variety of flooring types.
Your Pure-installed conservatory
Less Outside Noise
Rainfall on the roof of a conservatory or orangery used to be quite noisy but not any longer. The Leka system is a solid roof and reduces the noise of rainfall and other external sounds making the space usable when you choose and not just when the weather was right.
Glare Gone, Take Back Your Room
Conservatories are notoriously bad for feeling like you are sitting in a greenhouse on a hot day. Thanks to the new Leka system the glare is greatly reduced helping to keep the room cooler and much more comfortable to be in regardless of the time of year or conditions outside.
Minimal energy costs
Less heat can escape through the replaced plastic or glazed roof making the roof more energy efficient but when it is combined with the flooring system that we use your home extension is improved even further when compared to a traditional conservatory build.
New build conservatory process
Once you decide to contact our team we will visit you in your home in Southport and discuss the options available to you. We will then offer you a no obligation quote and answer any questions that you have.
So long as the great British weather holds out we usually complete our project build between 7 and 10 days, a few days extra for cleaning and some finishing may be required at times.  Our team will keep the intrusion into your daily life to an absolute minimum and treat you, your home and family with the upmost respect at all times.
We have built up a fantastic reputation for customer satisfaction and we are keen to continue this. We achieve this asking you to complete a short feedback form once we are done. We're also proud to offer an insurance-backed 10-year guarantee on all our work. All components of the Leka roof system have a 40-year warranty.
Ask us about finance
If you'd prefer to spread the cost of your new conservatory, we have finance options available.
Please ask us for more information.
Frequently Asked Questions
Do I need planning permission?
You only need to be aware the local Southport authority guidelines, ultimately this is your responsibility and our team can advise you every step of the way but in short no you do not need permission in most cases. You should also be aware that if you want to sell your home at any point in the future  the LEKA roof system does come with JHAI system approval to ensure you will not run into any issues.
Will a solid roof make my conservatory dark?
Losing light coming in through the glazed or PVC roof is inevitable but you do not lose light because this sunlight can be replaced with other types of lighting including ceiling lights. When finished with a fresh coat of white paint, you'll be surprised how airy it feels – just look at our gallery.
How long will my conservatory take to be built?
Every project we undertake is slightly different simply due to the type of property you have and the size and complexity of the work that needs to be carried out. We're also at the mercy of the weather. Most jobs take less than 10 days to complete but we will give you a better assessment during our visit.
What is an insurance-backed guarantee?
Not only are we vetted and insured by HomePro and have an average rating of 9.3/10 but we guarantee all of work for 10 years and this includes cover even if we cannot for whatever reason complete your build or cease trading.
The way Southport conservatories are being built are changing forever for the better and we're proud to be leading the way.
Testimonials
We can't believe the difference it's made! Our conservatory has become our main reception room.
Very happy with the job they did, makes a huge difference to our home. Friendly professional fitters.