Orangery building has changed
Orangeries are a fantastic way to add value, style and extra space to your home. We construct outstanding bespoke orangeries, using only the finest materials and the latest glazing technology. This ensures that your orangery will be enjoyed all year round, whatever the weather.
Orangeries make superb dining room extensions, playrooms, home offices or just the perfect place to relax or entertain family or friends. They also represent a great investment, as they are sure to add value to your home.
So if you are looking for something unique and innovative that will make your home stand out from the crowd, then an orangery from us is the perfect solution. Contact us today to find out more.
The Leka roofing system
Orangeries in Liverpool will never be the same again. For many years, conservatories were only used for a few months of the year. In the summer, they were too hot, and in the winter, they were too cold. However, a new generation of orangeries are now being built with all-season usage in mind.
We are leading the way with the revolutionary "Leka roof system". As a result, you can now use your conservatory all year round, regardless of the weather outside. Whether you want to enjoy the winter sun or escape the summer heat, an all-season conservatory will provide the perfect space for you to relax and enjoy the outdoors.
The new roofing system is highly efficient, meaning lower bills

Block glare even on very sunny days

Drastically reduce external noise such as rain

Usable throughout the year, warm in the winter & just right in the summer
Low maintenance design
The Leka 'Warm Roof System'
The Leka warm roof system is changing the way conservatories are built and has the best ratings on the marketing when compared to other solid roof systems. It allows your traditional conservatory to be used all year round without the heat of glare affecting your ability to use the room.
Pure Conservatories are championing the system and are leading the way in the Liverpool and surrounding areas and we are very proud to have this association with our company.
Our team of time-served and fully qualified professionals will give you a smooth ceiling finish and beautiful external tiling to match your existing property.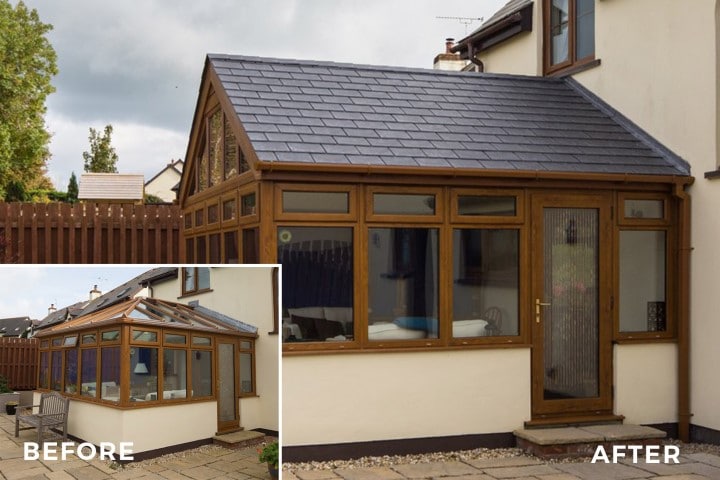 Construction
At Pure Conservatories Ltd, we only ever use the best products available to carry out the work on your new conservatory, sun-room or orangery. We understand that you want your new space to be perfect, and that means using only the highest quality materials.
Our team of experienced professionals are experts in their field, and they will make sure that every detail is perfect. We're so confident in our work that we offer a 10-year guarantee on all work undertaken by ourselves.
This means that you can have total peace of mind over your ideal space. We know that you'll be thrilled with the finished result. Contact us today to find out more about our services.
ROOF
When we build your roof we prefer to use the "Leka roof system". There are other systems available but the Leka is the only one with a "U-Value" of just 0.15 which is the lowest on the market – it is incredibly energy efficient.
The Leka system is a versatile and stylish way to finish your roof. It can be shaped to any size or style of roof, and the finished product has a high quality aesthetic appeal. The internal ceiling is finished with smooth plaster, and the external is finished with high-quality tiling. The Leka system is easy to install and requires little maintenance.
BASE
Any home improvement project comes with a certain amount of disruption, but conservatory construction often seems to cause more mess and stress than most. One of the biggest sources of frustration is the groundwork; excavating for the foundations can damage lawns and disrupt existing drainage, and the concrete base can be difficult to keep clean.
We use energy-efficient concrete flooring or modern prefabricated systems that minimise the amount of groundwork required which are extremely strong and durable, with a "U-value" of just 0.18 that keeps heat loss to a minimum.
GLAZING
We use the highest graded A-rated internally beaded products to ensure your windows look great for years. Our work also comes with our 10 year guarantee, so you can rest easy knowing that if anything goes awry during installation or later down the line then simply let us know and we'll take care of it!
WALLS
By definition, a conservatory can have up to 50% glazing on top of the dwarf wall. However, when building an orangery we will construct solid walls that are ready-made with TV and other mounting options allowing you to use this additional space as an extension to your home.
If you prefer you can also have your conservatory come complete with mood lighting, heating and other forms of heating such as log burner. Whatever you require, we can do it for you.
Your Pure-installed conservatory
Noise Reduction
The Leka system is a conservatory roof that is designed to be extremely effective at reducing the amount of noise that comes from outside. This includes things like rainfall, traffic, and even aeroplanes.
When the roof is combined with a triple glazing system and an insulated eco-friendly base, it creates an incredibly sound-proof space. This means that the conservatory can be used at any time of year, and it effectively becomes an extension of your home.
The Leka system is an excellent choice for anyone who wants to create a quiet and relaxing space in their home.
No More Hot Greenhouse or Glare
For centuries, conservatories and orangeries have been associated with stuffy heat and harsh glare. However, the Leka system offers a new way to enjoy these beautiful additions to your home.
By using advanced nanotechnology, the Leka system is able to reduce glare and manage heat levels, making your conservatory or orangery a comfortable place to relax and enjoy the outdoors.
In addition, the Leka system is also highly effective at filtering out UV rays, keeping your furniture and flooring from fading over time. With the Leka system, you can finally enjoy all the benefits of a conservatory or orangery without any of the drawbacks.
Energy Costs Reduced
If you're looking for a more efficient way to pay your bills, the Leka system is a great option. The energy-efficient roof and flooring mean that they take too much to heat and cool.
As a result, you'll save money on your monthly energy bills. In addition, the Leka system is also constructed with high-quality materials that are designed to last. So not only will you save money on your energy bills, but you'll also save money in the long run by avoiding the need to replace your roof and flooring.
New build conservatory process
Our builds usually take between 7 and 10 days to complete with then a few extra days for cleaning and finishing if required.
We pride ourselves on our reputation. We follow up every job with a questionnaire to make sure we're constantly improving. We offer an insurance-backed 10 year guarantee on all our work, and all components of the Leka roof system have a 40-year warranty. That means you can be confident your new conservatory roof will last for many years to come. We build all our conservatories to the customer's specifications and only use the best market-leading products. So if you're looking for a high-quality, long-lasting orangery, look no further.
Ask us about finance
If you'd prefer to spread the cost of your new conservatory, we have finance options available.
Please ask us for more information.
Frequently Asked Questions
Do I need planning permission?
You should check with your local authority although in most instances this is no longer a requirement. If you do want to sell your house in the future, the LEKA roof system also comes with JHAI system approval for your assurance.
It will reduce the external sunlight because you are effectively losing some of your windows but this is replace with ceiling lights and other electric lighting if required. When finished with a fresh coat of white paint, you'll be surprised how airy it feels – just look at our gallery.
Do you serve my local area?
We offer our friendly service to the whole of the North West and are happy to undertake work throughout the Liverpool area.
The way orangeries Liverpool are built has now changed and we're proud to be leading the way not only within the Liverpool area but all surrounding areas too.
How long will my orangery take to be built?
Most of our builds are completed within 7 to 10 working days but as with any building project we are at the mercy of the great British weather! All of our builds are bespoke and the materials required are obtained and used in a way that is unique to your size, shape and complexity of project. We will of course tell you how long it will take during our appraisal.
What is an insurance-backed guarantee?
It simply means that we offer a guarantee on the work that we carry out that we will be happy to rectify within a 10 year period, even if for whatever reason we had to stop trading or could not finish your project you are still covered. The Leka system materials come with a 40 year guarantee. We are vetted and insured by HomePro and have an average rating of 9.3/10 (very high).
Testimonials
We can't believe the difference it's made! Our conservatory has become our main reception room.
Very happy with the job they did, makes a huge difference to our home. Friendly professional fitters.