Conservatories & Orangeries in Chester have changed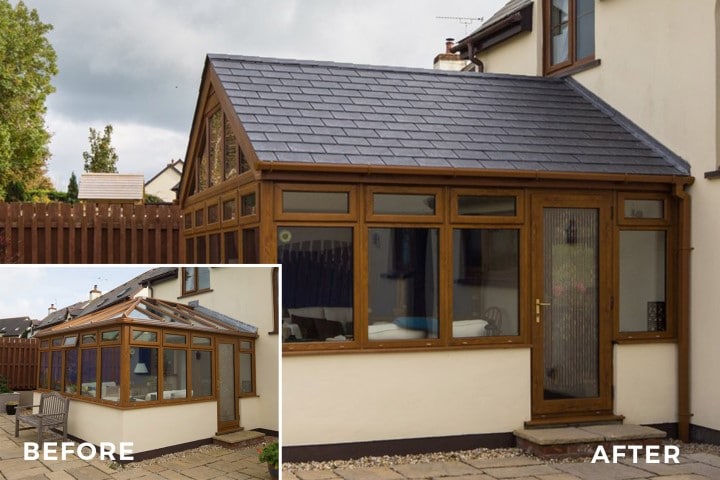 You may have already seen conservatories in Chester changing their style recently. Thanks to the new Leka roofing system you can now use your conservatory or orangery at any time of the year and Pure Conservatories are leading the way for the residents of Chester with this new revolutionary system and helping to change the way conservatories are built forever.
It is much more energy efficient – pay less for bills

Glare from the sun is drastically reduced

Noise from external sources including rain greatly reduced

warm in the winter and nice and cool in the hotter months
Most people build a conservatory or an orangery so they can have access to additional space in their home but what most people don't realise is that when the weather is anything less than perfect it makes them uncomfortable to be in.
The new Leka system and the way we build conservatories have now changed all of that and the older style conservatories in Chester are starting to be phased out as people switch to the more energy-efficient system that allows you to use your conservatory all year round.
We Build Orangeries & Conservatories in Chester
Chester is a beautiful city with many stunning homes. Add to the beauty and aesthetic appeal of your home by improving it using a solid roof conservatory instead of the standard traditional type that people are used to. Why not create a living space in your home that you will be proud of for many years to come.
Our team of time-served tradespeople will visit you in your home in Chester and work with you to produce a design and bespoke build that will suit your taste and the current size and shape of your home. We work with minimal intrusion into your daily life and the whole process should take less than 10 days to complete, all of our work is guaranteed for 10 years and the Leka roof materials come with a 40-year guarantee.
The Leka 'Warm Roof System'
Use your conservatory as a true home extension at any time of the year with the new "Leka" warm roof system a revolutionary way to install a solid roof onto your current or new build conservatory with little fuss and minimum intrusion. Free yourself from restriction that older style conservatories can bring on days that are too hold or cold and speak to our team today about the new "Leka" warm roof system.
There are other solid roof systems on the market but none have the energy rating, flexibility or reliability of the Leka roof system and we are proud here at Pure Conservatories to be leading the way for the people of Chester and surrounding areas.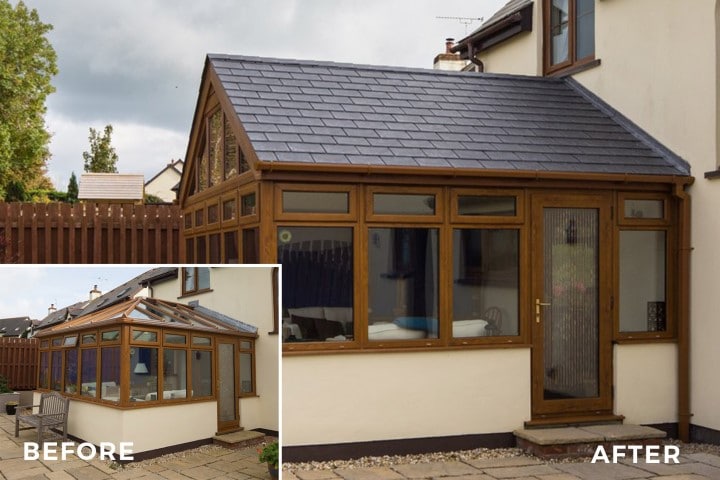 Conservatory Construction
The construction of your conservatory is paramount to the success of our company. We only use the very best material on the market from the groundwork to the tiles on your roof and we absolutely guarantee (with a 10 year contract) that your new conservatory will be of the highest standard possible – all usually built within 7 to 10 working days.
ROOF
The Leka warm roof system is very energy efficient with a u-value of only 0.15 which is the best available. Not only it is it incredibly light in weight but will be made to measure for your particular project. All of our work is finished with a smooth plastered ceiling finish and roof tiles wherever possible to match your current property for aesthetic appeal. Find out more about the Leka roof system here.
Base
There are a few ways to construct the base of your conservatory and we have opted for the most energy efficient methods available being a concrete base or the less intrusive and more modern prefabricated system. The newer prefabricated system does not require the same amount of digging as the concrete base and allows for obstructions such as manholes and pipes and has an ultra low u-value of 0.18 and JHAI approved. Both of these base groundwork methods are designed to improve the overall energy efficiency and reduce heat loss from the conservatory or orangery.
Glazing
The glazing we use is only every of the highest A-rated grading possible. With internal beading the windows we provide will be bespoke made to measure for your particular build and designed with durability, strength and security in mind. We never compromise on the materials that we use on our builds.
Walls
Conservatory windows usually sit on top of a dwarf wall but can contain some full height walls too for mounting a TV onto, heating or pictures. A conservatory needs to have at least 50% glazing to be classed as a conservatory and orangery less. Speak to us today for a friendly chat about how we can help.
You can choose what finishing you would like when you meet our customer service team, options include special mood lighting, electric heating or log burners and also a variety of flooring types.
Your Chester Conservatory installed By Pure Conservatories
A Reduction In Overall Noise
Because your new conservatory is built with a solid roof system the noise from external sounds including rainfall which used to be loud (especially during hail storms), is greatly reduced. This gives you an additional benefit as well as the climate controlled environment that you can use the new space all year round in relative peace and quiet compared to a traditional build.
Sunlight Glare Gone
A traditional conservatory at times was like sitting in a greenhouse with the sun beating down on you. If you have a TV in the room it could be almost impossible at times to see the screen. Eliminate all of that trouble with the Leka roof system which drastically cuts down the glare from the sun making the room much more comfortable to sit in and use when you choose.
Reduce Your Bills
Heat is no longer being lost out of the roof which on older builds is glazed or made of plastic. The new Leka warm roof system and more energy efficient prefabricated ground work means that your conservatory or orangery takes less time to heat and energy cannot escape as easily, therefore reducing your overall bills compared to a more traditional build with a glass or plastic roof.
Thinking of a new conservatory for your Chester home? Here's the new build conservatory process
The process begins when you get in touch with our team who will then arrange a visit to your home in Chester (we do cover most areas in the North West such as Liverpool, Wirral, Southport, Warrington, Wrexham and more too).
Your conservatory is built to the size and shape of your home and we can discuss the various options available to you during the consultation where we will be more than happy to answer any questions that arise including giving you a more accurate assessment of how long the project will take which is usually between 7 and 10 days depending on the great British weather!
Our business is built upon a great product and friendly customer service and we aim to cause as little disruption to your daily life and and home as possible during our time with you.
We're also proud to offer an insurance-backed 10-year guarantee on all our work. All components of the Leka roof system have a 40-year warranty.
Ask us about finance
If you'd prefer to spread the cost of your new conservatory, we have finance options available.
Please ask us for more information.
Frequently Asked Questions For Chester
Do I need planning permission?
You no longer need planning permission and our team can guide you through the local authority guidelines but ultimately it is your responsibility to understand the rules. But rest assured that if you sell your home the Leka roof system does come with JHAI system approval which goes in your favour for energy efficiency when your home is appraised.
Will a solid roof make my conservatory dark?
This is the number one question asked from customers before they go ahead with a new solid roof. You are covering up some of the plastic or glazing in your conservatory so you will lose that day light but it is replaced with ceiling lighting or other form of lighting so the light is brought back. You still have light streaming in through the other windows too so yes you lose some day light (but gain so much more in terms of usability) but the loss of light is made up by new lighting instead. When finished with a fresh coat of white paint, you'll be surprised how airy it feels – just look at our gallery.
How long will my Chester conservatory take to be built?
Most jobs are finished within a 10 day period but we are at the mercy of the weather too. Also, each project is bespoke which means all materials and made to measure for the size, shape and complexity of your property.
What is an insurance-backed guarantee?
We are proud to offer you a 10 year guarantee on our workmanship and you are fully insured so even if we cannot complete your build or our company went out of business you are still covered. We are vetted and insured by HomePro and have an average rating of 9.3/10 (a very good and high rating compared to the competition).
Do you serve my local area?
We serve the whole of the North West and are happy to undertake work in the Chester area.
The way Chester conservatories are built are changing and we're proud to be leading the way.
For more Chester FAQ's click here, or if you want to read more about pricing click here.
Testimonials
We can't believe the difference it's made! Our conservatory has become our main reception room.
Very happy with the job they did, makes a huge difference to our home. Friendly professional fitters.