We'd like to address some of the questions that people ask us from time to time, this particular page is relevant for people to our conservatories Chester page.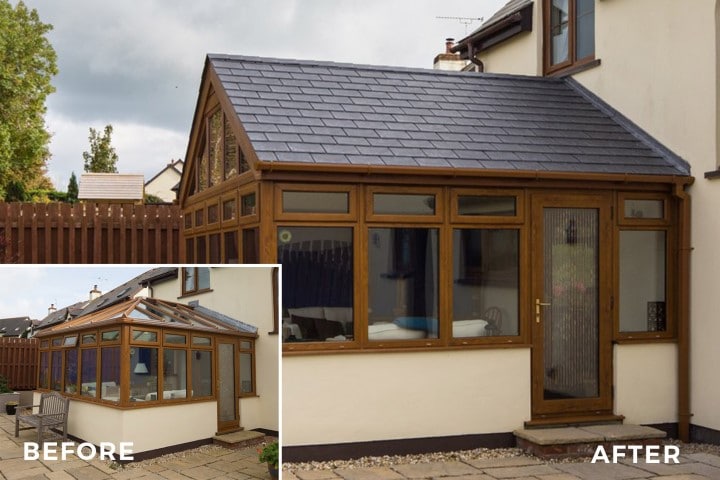 1 – How much do your conservatories cost?
The cost of a conservatory varies according to what you want in relation to the size and style. Obviously the bigger and more elaborate you want your build to be then the more you will pay. Average conservatories cost in the region of £10k to £20k but you really need to speak to our team to get a firm idea of how much it will cost (do not take these prices as an estimate because each project is different). For more information about conservatories in Liverpool, Chester and across the North West, give us a call today. 
2 – What is a solid roof conservatory?
Traditional conservatories were built with glass roofs and this is an awful waste of energy and allows too much light to ruin your time spent in the conservatory. By replacing it with a tiled roof completed with an internal flat plastered ceiling you can begin to benefit more from your conservatory.
3 – Do I have to rebuild the whole thing?
No, providing your existing structure isn't so old that it's about to fall down most structures have the stability to support a new solid roof. The materials used to construct the new "warm roof" system of which we use the Leka system, are lightweight and will not place too much pressure on an existing conservatory framework.
4 – Will the tiles match my existing ones?
If we are able to obtain the same tiles as the ones on your property then yes we can do this for you. A new tiled conservatory roof is very aesthetically appealing especially when the tiles match the existing roof so we always try to give you the best possible finish possible.
5 – Will the solid roof allow me to use my conservatory in the winter?
In most cases yes. The only occasion when you still may have difficulty is if you don't currently have any form of heating in there (and don't intend to provide any new heaters) or if your conservatory is very old and draughty in which case the glazing may be so thin and seals are worn that the energy will still be lost because of this reason. In most cases, though the glazing and seals are not too bad and therefore yes you will be able to benefit from the usage of your conservatory space during the winter and cold months as opposed to just when the weather wasn't too hot or too cold.
6 – Are you based in Chester?
We are based in Eastham in Wirral so we are not too far away, however, we do cover most areas of the North West so our team can travel to Chester to work on your project with no issues.
7 – How long does it take to replace the roof on my conservatory?
Most jobs take just a day providing the weather is in our favour and the conservatory is a typical home extension type and not a huge commercial space, in which case naturally this would take longer. Other factors that may hamper our progress could be accessibility to the property, availability of materials and any unforeseen waiting periods that are out of our control.
8 – How much disruption will it cause?
As we said, most jobs are completed in just a day however there may be some noise as we work and obviously some mess as we rip out the old roof and fit the new one. We will do our utmost to keep the disruption to a minimum but there is inevitably going to be some when having any work done on your property.
9 – How do I know you're a reputable company?
We have been in the business for over 10 years and have many happy customers who would be more than happy to recommend our services. We are also part of the Guild of Master Craftsmen, which is a sign of quality craftsmanship, and all of our team are highly trained and experienced in the installation of solid conservatory roofs.
10 – What guarantee do I get?
We offer a 10-year guarantee on all of our workmanship so you can be sure that you're getting a high-quality service when you choose us to replace your conservatory roof. 
If you have any further questions about replacing the roof on your conservatory then please do not hesitate to get in touch and we will be more than happy to help. We offer a free, no-obligation quote so you can see how much it would cost to replace your conservatory roof without any pressure from us. We look forward to hearing from you soon.