Conservatories in Liverpool (& Orangeries) have changed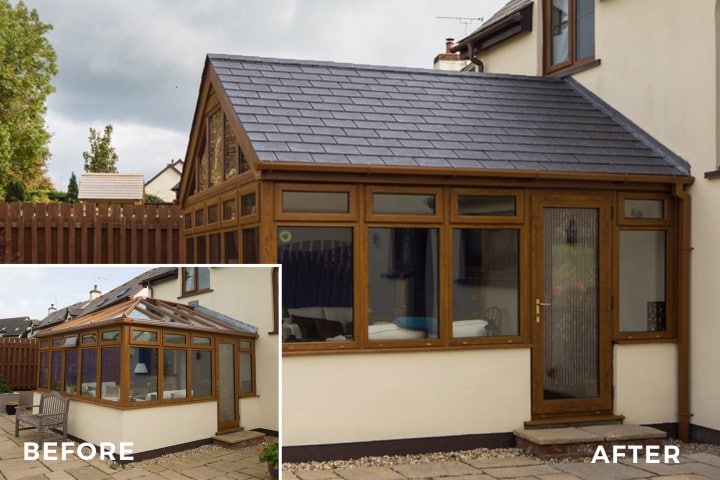 Orangeries & Conservatories in Liverpool used to only be used at certain times of the year, not when it was too hot, too cold or when the sun is glaring through the windows.
Introducing the revolutionary new Leka roofing system
This has now all changed and conservatories and orangeries in Liverpool will never be the same again. You can now use your existing conservatory all year round, thanks to one of the most innovative home improvements on the market.
Get A Quote For Your Liverpool Conservatory
Leka is highly efficient, so your energy bills will be reduced

You won't have to worry about glare, even on the brightest of days

Your new roof will help to reduce external noise, such as rain and traffic

You'll be able to use your conservatory all year round, as it will be warm in the winter and cool in the summer
Did some shopping around and Pure cane up the cheapest by a few hundred quid. Initial quotation was booked in within a few days of the initial phone call. Deposit taken and work booked in within 4 weeks. Cannot fault the guys what so ever, the work was outstanding, very neat & tidy and very professional. There was no mess left behind and everywhere was cleaned before they left! Made up with our new roof it has made a massive difference to the tempurature in the room. I have since reccomended Kev and Pure to 2 people who have both now booked in to have their roof done! Top job!
Patricia Jones
2022-09-12
September 2022….. Just had the polycarbonate roof replaced with a Leka Tiled Roof System by Pure Conservatories, best decision we ever made…… From start to finish when Kev first came round to give us a quote to the fitters being absolutely amazing….. I can not fault anything….. So if you're thinking of having your roof changed on your Conservatory give Pure Conservatories a call they are THE BEST !!!
Absolutely fantastic team, just replaced our conservatory roof, removed an interior door and plastered ceiling and walls. Excellent workmanship, very clean and tidy. Steve and the team did a great job and Craig the plasterer was exceptional - best plastering we've had (and we've had a few over the years), cleaned up as he went along...perfect! Would definitely recommend Pure.
Pure Conservatories replaced our blue glass roof with a insulated light weight roof on our existing conservatory, the difference in the warmth is amazing. Lee and Kevin did an amazing job, the finished look is fantastic and we are exceptionally pleased. They worked very hard and continuously throughout, arriving prompt each morning, very professional, they worked, cleanly and tidily, along with protecting our existing floor and window ledges, also very chirpy, easy going and nothing was too much trouble. Debbie who came initially to talk us through things was lovely, no pressure sales talk, and explained everything very well, always there to answer any questions and again nothing was too much trouble. The office lady was also very pleasant so all in all a great team who we thoroughly recommend.
We are very pleased with the work, and the installers were very effective, and nice ,I am so pleased with there work, excellent job ,and a lovely bouquet when it was finished
Pure have provided us with a lovely comfortable living space from our cold winter conservatory and the oven hot conservatory of summer. We can really enjoy our garden room all year round now. many thanks to the team john &ann smith
Annette Mccarthy
2021-05-23
Had our conservatory roof replaced recently. Everyone who worked on the roof, from builders to electrician and plaster, were amazing. We couldn't be happier with our conservatory. We've spent all weekend in it and it's now lovely and warm. The new roof makes such a difference and was money well spent. Flowers that arrived yesterday was a lovely touch and unexpected.... can't rate high enough.
Very professional roof conversion carried out by Steve and his crew. They worked non stop to remove the old polycarbonate roof and change it to a tiled roof within a couple of days. The difference it has made is brilliant. Not only looks better on the outside it looks fantastic inside as well (and much warmer too). Used my conservatory non stop throughout the day since. 5 stars from me and highly recommend Pure Conservatories to any one thinking of changing their conservatory roof.
Richard Holmes
2021-04-02
Just had conservatory roof done by pure excellent job thanks to Kev and the lads would definitely recommend to anybody looking to use them .
Many conservatories in Liverpool are switching to this new solid roof system. Older style conservatories are now being phased out as more and more people are adapting their traditional conservatory or building brand new glass extensions to their home that no longer has seasonal restrictions.
Not only is the Leka system great for year-round usability, but it looks fantastic too! You can tailor the design options to fit in with the style of your home, our conservatories and orangeries are way ahead of the competition and really help your property stand out from the crowd, as well as being low maintenance. This really is one of the best Liverpool home improvements you can make.
Our workforce operates throughout the Liverpool area and our team of professionals can work with you to produce and build a design that you will be proud of. Our previous customers speak very highly of the work we do and our reputation is paramount, our team work to create as little fuss to you and your property as possible in the short time we will be with you.
Get A Quote For Your Merseyside Conservatory
Introducing Leka's 'Warm Roof' System
Here at Pure Conservatories, we're proud to use the Leka warm roof system. This has one of the best ratings on the market when compared to other solid conservatory roof systems. This roof system means that your conservatory can be used throughout the year, without being dependent on the weather.
Not only will your Leka roof be tiled to match your existing roofing, giving your home a modern and seamless appearance, but the interior of your conservatory roof will be plastered and painted. You can also opt for roof lights and electric lighting if desired.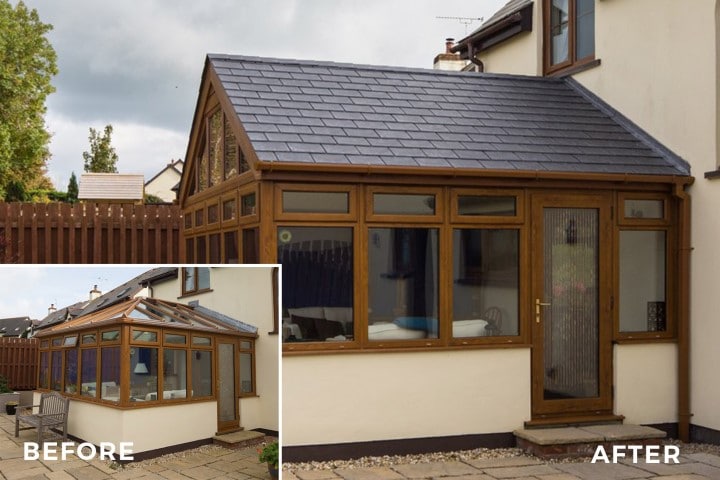 Construction
At Pure Conservatories, we use industry leading materials to construct your new conservatory, sun-room or orangery so you can rest assured that you are receiving the highest quality market leading material to match our exceptional service.
In fact, we're so confident when it comes to our service that we offer a 10 year insurance-backed guarantee on all of our work. Not only that, but the Leka roofing system comes with a 40 year guarantee on all components, so you can enjoy your new conservatory worry-free.
ROOF
We use the innovative Leka roofing system on all new conservatories. Whilst there are many other systems available on the market, Leka is the only roof system that has a U-value of just 0.15. This is the lowest U-value available on the market, meaning that the Leka roof system is the most energy efficient conservatory roof available.
The Leka roof system can be used on any shape and size of conservatory roof. The internal ceiling will be finished with smooth plaster, whilst the external roof will be tiled to match your existing roofing. You can learn more about the Leka roof system here.
Base
For your conservatory groundwork base, we tend to use highly energy-efficient concrete flooring or a modern prefabricated system which allows for less intrusive groundwork to take place. If you have (and most people do) obstructions in your ground such as manholes and pipework then the prefabricated system is perfect. This has an energy-efficient U-value of just 0.18 and is JHAI approved. Regardless of the groundwork system used, both are very eco-friendly and efficient.
Glazing
The glazing used is bespoke to the build of your design and we only ever use products that are A-rated and internally beaded. All of our work comes with a 10 year insurance-backed guarantee, enabling you to rest assured that your windows will look great for many years to come.
Walls
By definition a conservatory can have a maximum of 50% glazing which is built (usually) on top of a dwarf wall. If you are keen to have an orangery rather than a traditional conservatory then we can construct solid walls ready for TV and other mountings to your choosing as long as you stay within the definition of a conservatory.
For maximum customisation, you can add mood lighting, roof lights, heating and even a log burner to your conservatory. Whatever your dream conservatory includes, we can make it happen.
Your Pure-installed conservatory
Reducing External Noise
The Leka system is a solid roof conservatory which drastically reduces the outside noise including rainfall. When fitted with a triple glazing system and a very well insulated eco-friendly base this only adds to the overall sound-proofing of your conservatory meaning it can be used at any time of the year you choose, it is effectively an extension to your home.
No More Glare
Conservatories and orangeries are infamous for the glare spoiling your time spent in them. They are effectively greenhouses and retain the heat from the sun making them uncomfortable to be in for long periods of time. The Leka system changes all of the that, no more glare, no more sitting in an greenhouse. Simply an effective extension of your home.
Energy Costs Reduced
Using the highly efficient Leka system means that you pay less for your bills than you would with a more traditional build style. Thanks to an energy-efficient roof and flooring, your conservatory won't take too much effort to heat and cool down.
New build conservatory process
The majority of our installations take between 7 and 10 days for completion, although there may be an extra couple of days at the end for cleaning and finishing.
It all begins with a visit from our customer service representative to have a chat about your requirements, where we can talk face to face and answer any questions you may have. We can also provide you with a free quote.
All of our conservatories are built to the design and specification you would like and are bespoke to your property, remember we also only ever use the very best market-leading products when we build.
We have built our business on our reputation, and every job we undertake is followed up by a questionnaire so we can constantly improve what we do. We're also proud to offer an insurance-backed guarantee of 10 years on all of our work.
Not only that, but every component of the Leka roof system comes complete with a 40-year warranty, which guarantees that your new conservatory roof will last for many years to come.
Ask us about finance
If you'd prefer to spread the cost of your new conservatory, we have finance options available.
Please ask us for more information.
Frequently Asked Questions About Conservatory Installation In Liverpool
Do I need planning permission?
This is no longer required just so long as you are aware of the local authority guidelines which we can advise you on. If you do plan to sell your home at some point then it is also worth mentioning that the LEKA roof system does come with JHAI system approval for your peace of mind.
Will a solid roof make my conservatory dark?
It's important to understand that replacing your conservatory roof is likely to reduce the natural sunlight in your conservatory. However, this means that your conservatory will become more efficient, as less heat will be lost through your conservatory roof.
You can increase the natural light in your conservatory by opting for roof lights. You can also choose to install electric lighting, and of course a fresh coat of white paint brightens up any room!
Do you serve my local area?
At Pure Conservatories, we are proud to install conservatories and roof systems across Liverpool and the North West area.
The way conservatories in Liverpool are built is changing and we're proud to be leading the way.
How long will my conservatory take to be built?
The majority of our conservatories take between 7 and 10 days to complete. However, as with any building project, we are reliant on the great British weather!
Each and every one of our conservatories is bespoke, so there's no one-size-fits-all answer when it comes to how long it will take to build your conservatory. We will be able to give you an estimated timeframe for completion during our site visit and initial consultation.
What is an insurance-backed guarantee?
All of our work comes with a 10 year insurance-backed guarantee. This means that our guarantee is backed by our insurer. So, if we were to cease trading, you'd still be covered under our guarantee.
The Leka roof system also comes with a 40 year guarantee on all components. This means that you can enjoy your conservatory for many years to come, without worry.
Where In Liverpool Do We Install Conservatories?
As one of Liverpool's finest conservatory installation experts, we bring attention to detail to every project that we work on across Merseyside.
Our skilled teams deliver stunning conservatory installations and conservatory roof replacements that seamlessly match your property's existing style to enhance your home. We work across the region including Knowsley, Woolton, and beyond.
From transforming urban spaces in Bootle to enhancing period homes in Crosby, we help clients re-imagine their conservatories so they can enjoy the space all year around.
Whether pairing elegant design with maximum daylight or energy-efficient materials for year-round enjoyment, residents from Formby to West Kirby trust us to thoughtfully rejuvenate living areas.
Get in touch to transform your home with a conservatory installation that is tailored to you.
We also have teams installing conservatories and orangeries in nearby Chester, Warrington, Southport , and Wirral.
Testimonials
We can't believe the difference it's made! Our conservatory has become our main reception room.
Very happy with the job they did, makes a huge difference to our home. Friendly professional fitters.