Does Removing a Conservatory Devalue a House?
https://pureconservatories.co.uk/wp-content/uploads/Does-Removing-a-Conservatory-Devalue-a-House.png
700
445
Kevin Rigg
Kevin Rigg
https://secure.gravatar.com/avatar/a168b99a92cc25f70738184a4eca67aa?s=96&d=mm&r=g
Does removing a conservatory devalue a house? It can, but there are alternatives. Making informed choices like upgrading to a solid roof system can protect and potentially enhance your property's worth. It's all about weighing your options and choosing what's best for your home and budget.
Making The Most Of Your Conservatory
Whatever type of conservatory you have, be it a Victorian, Edwardian, or a Lean-to, if it's seen better days or you're considering an extension, then you may be looking into the option of removing it entirely. Before you do, consider the option of improving what you have to prevent the possibility of reducing the value of your home by losing useful space.
Pure Conservatories are specialists in conservatory roof replacements, particularly with solid LEKA systems. With a wealth of experience and knowledge in conservatory revitalisation, we can provide valuable insights and solutions to homeowners thinking about the impact of conservatory removal on their property value.
Read on for some frequently asked questions about removing a conservatory and its impact on the value of homes.
What Is The Impact Of Conservatory Removal On Property Value?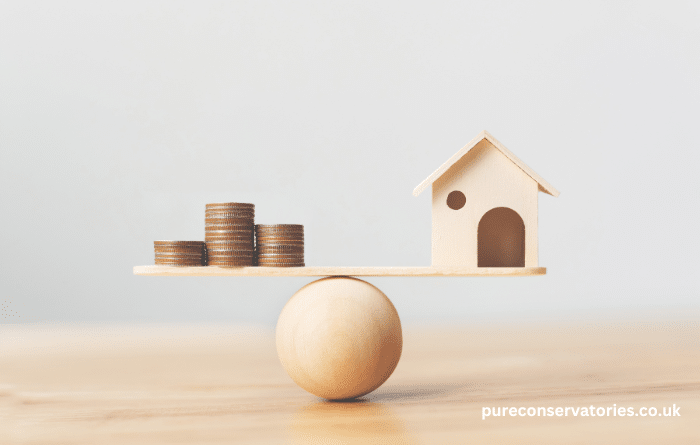 Taking down a conservatory in sound condition can lead to a dip in the value of your home. This decrease is primarily due to the loss of the additional space that a conservatory brings to your property. Essentially, it's akin to removing a portion of your home, and this could result in a lower property value.
When Might You Consider Removing a Conservatory?
Here are a few situations where it might make sense to consider removing or improving a conservatory:
Structural Issues: If the conservatory is suffering from significant structural problems that are beyond repair, removing it might be the most sensible option. This could include issues like foundational shifts, irreparable frame damage, or extensive deterioration due to age and weather conditions.
Cost of Repairs Exceeds Replacement: Sometimes, the cost of fixing an old conservatory can outweigh the investment in a new one. If the repairs required are extensive and the overall structure is nearing the end of its lifespan, it might be more economical to remove it and consider alternative solutions.
Redesigning Property Layout: If you're planning significant property renovations or a change in the layout that doesn't accommodate the current conservatory, removal might be necessary. This could also be the case if you're looking to utilise the space differently, for example, for an extension or a garden redesign.
Changing Property Function: In cases where the property's function is changing – perhaps it's being converted into multiple dwellings or being repurposed for commercial use – the conservatory might not fit into the new design scheme and could be considered for removal.
However, before deciding on removal, it's always worthwhile to explore refurbishment and upgrade options. Always weigh the pros and cons, and consider consulting with experts like Pure Conservatories to explore the best course of action for your specific situation.
How Can Aging Conservatories Be Revitalised?
If you have an older conservatory, there are several ways to breathe new life into it, ensuring it remains a valuable feature of your property. A particularly effective method is considering a roof replacement, and this is where Pure Conservatories can step in with our solid LEKA system.
The LEKA system is designed to revitalise the whole ambience and functionality of your conservatory. It's not just about aesthetics – although it certainly makes a visual impact. It's about turning an ageing or under-utilised space into a comfortable, energy-efficient, and stylish room that you can use all year round, regardless of the weather outside.
By opting for a roof replacement, you aren't just revamping the look and feel of the conservatory. You're investing in its overall structure and performance, potentially enhancing the overall value of your property. This means that instead of losing value by removing it, you're contributing to your property's worth and enjoying a rejuvenated space.
How Can You Improve a Conservatory Without Removing It?
Improving a conservatory without removing it is entirely possible and can be achieved through various methods such as:
Installing High-Performance Glazing: Upgrading to double or triple glazing can improve thermal performance, reduce noise, and enhance security, providing a more comfortable and serene environment within the conservatory.
Enhancing Flooring and Insulation: Installing high-quality flooring and improving underfloor insulation can increase the conservatory's thermal efficiency, making it warmer in winter and cooler in summer.
Adding Blinds or Shades: Incorporating blinds, shades, or reflective films can help control light and temperature, making the space more versatile and comfortable throughout the year.
Optimising Ventilation: Ensuring that the conservatory is well-ventilated can prevent condensation, maintain a pleasant temperature, and improve air quality, contributing to a healthier and more enjoyable living space.
Modernising Interior Design: Refreshing the interior with new furniture, lighting, and decor can revitalise the space, making it more inviting and aligned with the rest of your home's aesthetic.
Integrating Heating or Cooling Systems: Installing efficient heating or cooling solutions can help maintain optimal temperatures in the conservatory, enhancing its usability across different seasons.
Landscaping and External Aesthetics: Paying attention to the landscaping around the conservatory and enhancing its external aesthetics can create a harmonious transition between the indoor and outdoor spaces, adding to the overall appeal of the area.
What Are the Benefits of a Solid LEKA Roof System?
A solid LEKA roof system offers several advantages. It's energy-efficient, durable, and plays a significant role in conservatory rejuvenation. By upgrading to this system, you can transform the entire aesthetic and functionality of your conservatory, making it a valuable addition to your home. Explore our tiled conservatory roof replacement options for a rejuvenated space.
Can Upgrading a Conservatory Increase Property Value?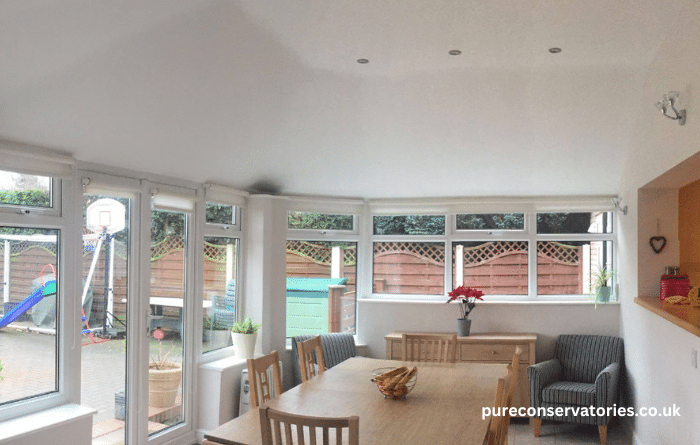 Modernising a conservatory with premium materials and cutting-edge systems can significantly boost property value. Integrating advanced roofing systems, new windows or a total redecoration, not only elevates the visual appeal of the conservatory but also substantially improves its functionality and usability.
These upgrades are designed to deliver superior thermal efficiency, ensuring the conservatory remains a cosy and enjoyable living space all year round, irrespective of external weather conditions.
Don't forget, that a well-maintained and modernised conservatory can be an attractive feature for potential buyers, highlighting the additional versatile living space it provides. Essentially, by investing in quality upgrades, you are future-proofing your conservatory, ensuring it continues to add value and appeal to your property.
What Makes the LEKA Roof System Stand Out?
The LEKA roof system is renowned for its durability and energy-efficient properties. It's designed to offer a high level of insulation, keeping your conservatory warm in the winter and cool in the summer. This system is not just about improving the appearance of your conservatory; it's about enhancing its overall performance and making it a more comfortable and usable space throughout the year.
How Can Pure Conservatories Assist You?
Pure Conservatories are experts in installing the LEKA roof system. Our team is dedicated to ensuring that the installation is seamless and that the final result meets your expectations. We work closely with homeowners to understand their needs and provide solutions that are tailored to their specific requirements. With our expertise, you can rest assured that your conservatory will be revitalised and continue to add value to your home.
Looking for a solid roof replacement? Discover the benefits of a tiled conservatory roof replacement with Pure Conservatories.
Summary
Removing a well-maintained conservatory could possibly devalue a house if the conservatory is being used as an additional functioning room because its removal would decrease the overall square footage of the property. If however, your conservatory is ageing and has seen better days, you might consider removing it or improving it. Upgrading elements of your conservatory like installing a solid roof could rejuvenate the space and potentially increase your property's value.
Thinking about replacing your conservatory roof? Call 0151 327 8095 to book a free no-obligation site visit and quote.
Where Are Pure Conservatories Based?
We are based in the Wirral but serve the surrounding areas, see the following pages for more details about our services and where we offer them:
conservatories Liverpool, orangeries Liverpool, conservatories & orangeries Chester, conservatories & orangeries Wirral, conservatories & orangeries Warrington, conservatories & orangeries Southport
If you are not in one of these areas please get in touch. These are our main focus areas but we're happy to have a chat about working in your area.