Are Solid Roof Conservatories Any Good?
https://pureconservatories.co.uk/wp-content/uploads/All-year-round-conservatory.jpg
1024
683
Kevin Rigg
Kevin Rigg
https://secure.gravatar.com/avatar/a168b99a92cc25f70738184a4eca67aa?s=96&d=mm&r=g
We are somewhat biased because we already know the huge benefits of fitting a solid roof to your conservatory but we do get asked all of the time if a solid roof is worth it so we want to show the difference.
Are solid roof conservatories any good? In short yes. The are cheaper than an extension, revamp your existing conservatory and allow you to use it all year round. A solid roof prevents the sun from glaring down making it too hot on sunny days whilst still giving you the benefit of panoramic views, in winter when it's cold a "warm roof system" prevents heat from escaping through the roof glazing.
---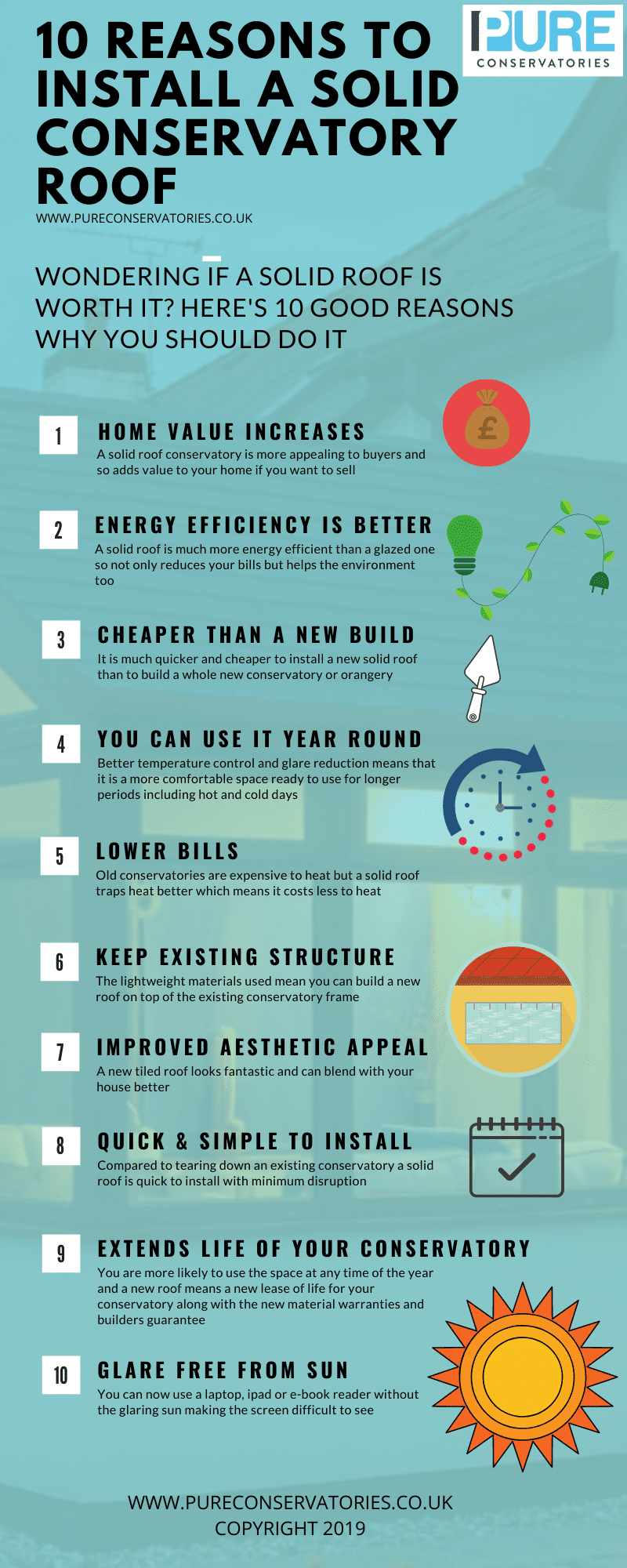 ---
1 – The Problem With Existing Conservatory Roofs
If your conservatory is more than 20 years old, you likely experience damp issues and struggle to get any real use out of it. This is because the design and structure although once was a great idea, the practicalities never lived up to the promise of a cheap home extension.
Traditional conservatories were often constructed from glass panes or thin sheets of poly-carbonate plastic. The result of this type of construction was that the conservatory roof was just not effective for insulation the results being the room is too hot in summer and too cold in winter (here are some tips for keeping your conservatory warm in winter).
People who are now replacing their outdated roofs with warm solid roofs are able to use their conservatory for the purpose it was purchased for – to get more use out of it.
Your conservatory can become the extension to your home that you always wanted.
---
2 – So What Is A Solid Conservatory Roof?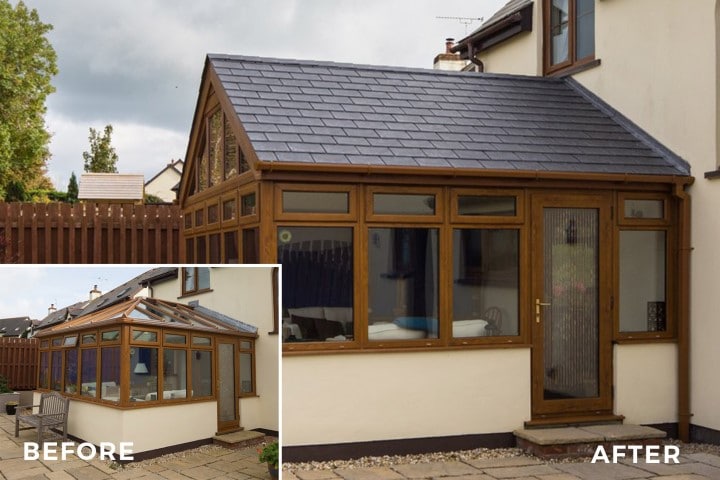 From the outside a solid conservatory roof looks like any other tiled roof, perhaps with a skylight or two installed. The materials used are light in weight and therefore suitable for the structure of a conservatory.
From the inside you will see a flat plastered ceiling as you would in any other room and this can be fitted with spotlights or any other form lighting you prefer.
The roof itself is insulated and made from panels which are designed to be energy efficient.
The result is no more draughts or stuffy hot days and a room that is pleasure to spend more time in at any time of the year of your choosing.
---
3 – Is A Solid Roof Expensive?
No. The price depends upon the shape and the size of your conservatory but the replacement roof is fairly easy to install.
Just think of how much money you have already and will continue to do so when it comes to heating your conservatory when the weather turns colder.
The offset costs of investing in a solid warm roof will more than pay for itself by the money you will save on heating bills.
There's also the additional benefit of actually now being able to use your conservatory during the colder months too and don't forget that by adding this extra space to your home you are also increasing the sale value should you wish to move. A solid roof conservatory is a much more appealing space to a potential buyer than a traditional glazed one as most people now realise that traditional conservatories are just not practical.
---
4 – The Leka Warm Roof System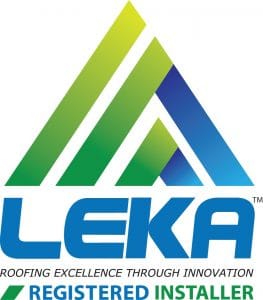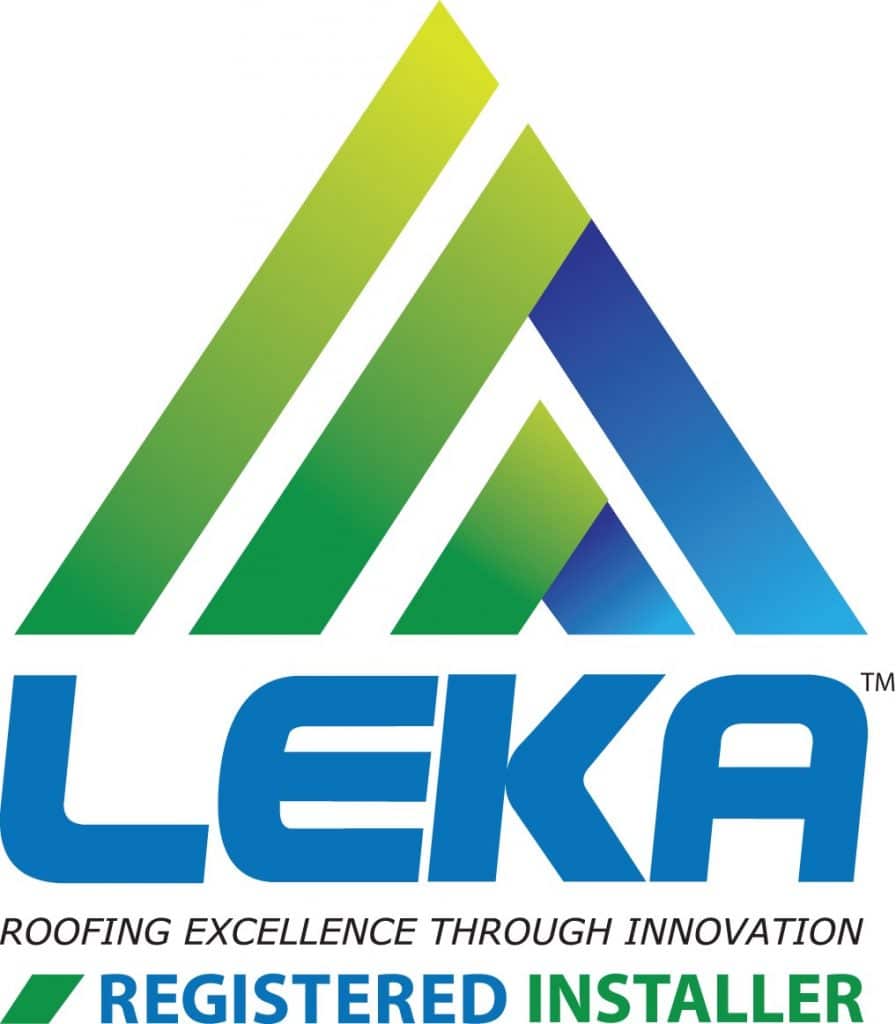 We are a firm of experienced conservatory builders based in Wirral and we have championed the Leka warm roof system which is among the leading warm roof systems available on the market.
Give us a call or fill in our contact form if you are in the North West and our team will be able to advise on a price for a newly installed warm roof to your existing conservatory.
---
5 – What Are The Main Benefits Of A Solid Conservatory Roof?
Let's sum up with a few bullet points some of the things we've covered so far:
Adds value to your home if you want to sell
Much more energy efficient than a traditional glazed roof
It is much cheaper to install a new roof than tear down and rebuild a new conservatory or orangery
The temperature is more comfortable allowing you to use the conservatory for longer periods of time all year round
Reduced glare on sunny days allows you to use a computer or read an e-book easier
Better energy efficiency means you save money by lowering your bills
Tiling and light weight materials mean that no structural changes are required
The conservatory has a better aesthetic appeal to it both inside and out
Much simpler, quicker and easier to install when compared to a new conservatory installation
Extends the life of your existing conservatory and finally allows you to use it more often
---
People Also Ask:
People ask us the following questions fairly regularly so we thought we would try and answer some of them here, if you do want to ask anything else then please get in touch for a friendly no obligation chat with our team.
Do I Need To Replace The Conservatory Frame?
Usually no but our team can advise you after our survey has been carried out. If your conservatory is really old then you will not get the full benefit of an energy efficient roof if the heat is escaping through poorly insulted windows and gaps but on the whole most conservatories are fine to put a new roof onto.
How Long Does It Take To Install A New Solid Roof?
It depends on the size and shape of your structure but on average it takes about a day. A solid roof is pretty simple to install when you have a team of experienced conservatory builders who know what they're doing working for you.
Do I Need Planning Permission For a New Solid Conservatory Roof?
If you are replacing a glazed roof with a solid roof then it is always best to seek permission from the Local Building Authority (here's a link here for you to check) however changes in legislation now give people more control over what they can and can't do to their home when it comes to extending it.
Most conservatory builds do not need permission but it is always best to check with the local authority first, speak to our team about this and we're more than happy to have a chat with you about it.
---
Where Are You Based?
We are based in the Wirral but serve the surrounding areas, see the following pages for more details about our services and where we offer them:
conservatories Liverpool, orangeries Liverpool, conservatories & orangeries Chester, conservatories & orangeries Wirral, conservatories & orangeries Warrington, conservatories & orangeries Southport
If you are not in one of these areas please get in touch. These are our main focus areas but we're happy to have a chat about working in your area.