Conservatory Conversion Ideas – Have You Thought Of This?
https://pureconservatories.co.uk/wp-content/uploads/Conservatory-conversion-ideas-2.png
700
445
Kevin Rigg
Kevin Rigg
https://secure.gravatar.com/avatar/a168b99a92cc25f70738184a4eca67aa?s=96&d=mm&r=g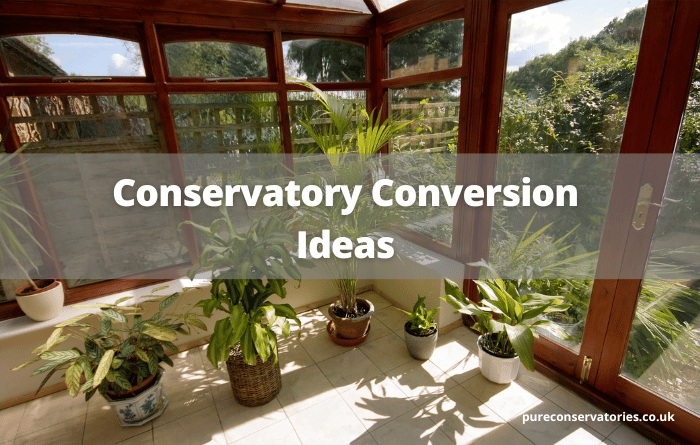 If you're looking for a way to add some extra living space to your home without breaking the bank then you might need some conservatory conversion ideas. Why not consider converting your unused conservatory into a functional room that can be used for anything from an office, or reading nook, to a bedroom? By choosing the right materials to enhance your conservatory, like the Leka solid roof system, you can ensure a usable space all year round whilst adding a stylish and functional addition to your home. Here are some great conversion ideas to get you started!
Convert your conservatory into: 
A home office
A utility room
An open-plan kitchen diner
A study
A home gym
A Playroom
A home spa or relaxation room
A reading room
A dining room
A treatment room
A bedroom
If you have an unused conservatory, then consider some of these great ideas for converting it into a functional and stylish room in your home. With the right materials and furnishings, you can turn your conservatory into any kind of room that you want and need at home.
Converting Your Conservatory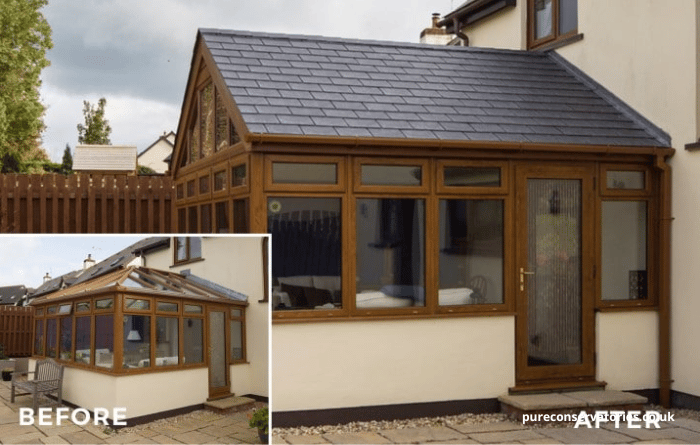 When most people think of a conservatory, they picture a large, white Victorian structure with glass windows full of old boxes gathering dust, or an old sofa! Conservatories can however come in all shapes and sizes and can be adapted to suit a variety of needs when turned into stunning, practical living spaces through conversions.
For example, a small lean-to conservatory can easily be converted into a cosy reading nook or if you have a bit more space to work with, you could turn your conservatory into a sunroom, winter garden or open-plan kitchen diner.
There is no denying that a conservatory is a great way to add extra living space to your home, but due to its typical construction, many people find that their conservatory is too hot in the summer and too cold in the winter. As a result, they don't get much use out of it.
If this sounds familiar, then you might be thinking about converting your conservatory and will need to consider the following key points:
One of the main issues with conservatories is that they can be quite hot in the summer and cold in the winter. By adding insulation to the walls and ceiling, including double glazing, you can try to keep the temperature comfortable all year round.
Installing shutters or blinds to block out the sun when it's too hot, or let in the warmth when it's cold outside is a great way to try and regulate the temperature.
Another important aspect to think about is the flooring. You need to make sure that the flooring is suitable for the space and that it can withstand any potential water and dirt damage that gets brought in from outside if you are using the room as a thoroughfare to the garden.
By using furniture and decor that can be easily moved around, you can make the most of the space. For example, try using folding chairs and tables so that you can put them away when you're not using them, which means you can then use the room for several purposes.
Invest in heating and cooling units that can be controlled remotely, so you can always have the perfect temperature.
With a little bit of effort, you can transform your conservatory into a room that you'll want to spend time in.
The Easiest Way To Convert Your Conservatory
No matter what your vision for your conservatory is, there are endless possibilities for conversion if you use the right building materials and solutions. One of the best solutions for conservatories available on the market, and one of the easiest ways to convert your conservatory into a usable space again, is to simply change the roof to a Leka roof system or build a new conservatory with this system installed.
The best thing about Leka is that you can tackle all of the issues you need to consider above when converting your conservatory such as temperature, aesthetics, functionality and lighting, in one easy step by including this brilliant product in your conservatory conversion project.
For a budget-friendly and efficient renovation option that will resolve traditional conservatory issues such as insulation, lighting, and heating concerns, consider using Leka when updating your space to an area of your home that you can use all year round.
_____________________________________________________________
Want to discuss replacing your conservatory roof?
Call 0151 327 8095 or send an enquiry to book a free no-obligation consultation. 
_____________________________________________________________
What Is A Roof System?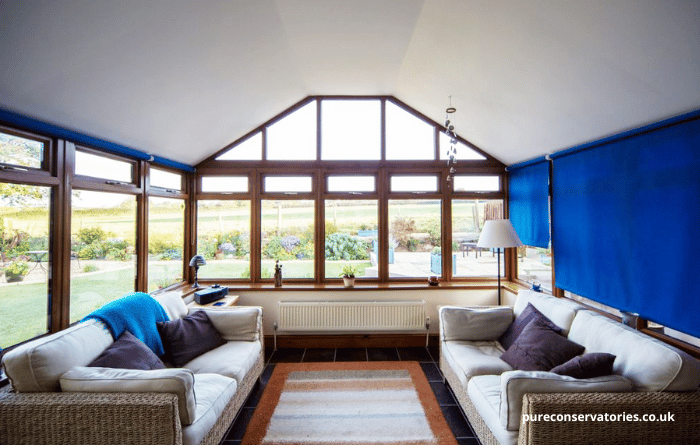 A roof system is a long-lasting and durable roof that will create an insulated space that allows for natural light to flood in, whilst having the benefit of regulating temperature. This means that when installing a conservatory roof system, you can say goodbye to walking into a greenhouse in the summer and shivering in the winter. This means you can turn your conservatory into a room that can finally be used all year round whilst creating an attractive look from the outside too.
Conservatory roof systems can be used to replace the roofs on existing poorly insulated conservatories or chosen as the preferred option when building a new conservatory from the ground up instead of the usual expanse of glass or heavy-duty plastic. They come in a range of styles and can include a lantern to create an orangery and blend seamlessly into your home's exterior build.
Pure Conservatories specialise in installing solid roof conservatories and orangeries and the team uses a system called "Leka" to build brilliant rooms quickly and simply, that can be used all year round.
What Roofing Options Are There?
The roof is one of the most important parts of a conservatory conversion. to consider. It controls the heat, and light and plays a large role in the overall look of the room too.
When it comes to roofing, there are many different options available on the market. However, not all roofing materials are created equal. Some are more durable than others, and some are better suited for specific climates. Leka comes in a variety of options to suit all conditions.
A good solid roof system, like Leka, can allow plenty of light in, especially when installed with a lantern, is lightweight but very strong and can be styled to suit the aesthetic of your existing home. The Leka roofing system is one of the best conservatory roof systems on the market for its ability to help you to turn a heat box in the summer and an ice box in the winter into the functional, usable space that everyone dreams of their conservatory will be.
As experts in conservatory roof systems, we only recommend and install the Leka roofing system at Pure Conservatories and have shared some of its key benefits to show you why we rate it so much below.
Benefits Of The Leka Roof System
The Leka Conservatory Roof System is a high-quality, energy-efficient way to keep your home comfortable year-round.
The system includes an inner layer of insulated glass, a middle layer of UV-resistant film, and an outer layer of clear glass. The three layers work together to reflect heat in the summer and trap heat in the winter, providing a comfortable environment no matter the season.
The system is also designed to reduce noise levels, making it ideal for families with young children or light sleepers.
In addition, the Leka Conservatory Roof System blocks out 99% of harmful UV rays, protecting your furniture and floors from fading.
The system is available in a variety of colours and styles to match any home décor, and it can be installed by a professional or do-it-yourselfer.
Leka is made to measure and is the most insulated roofing system on the market.
Solid but lightweight and can be retrofitted to existing conservatory base in as little as three days
Whether you're looking to save on your energy bill or create a more comfortable and usable living space, the Leka Conservatory Roof System is the perfect solution.
Benefits of Conservatory Conversions
A conservatory is a room that originated in the 16th century as an extension of an aristocratic home, where plants could be taken in for the winter months. However, conservatories can serve many purposes beyond just plant care and have come a long way since then! Here are a few of the benefits of using a conservatory as an additional usable room in your home:
One of the main benefits of a conservatory is that it allows you to bring the outdoors indoors. Whether you want to grow plants or just enjoy the natural light and fresh air, a conservatory is perfect for that.
Conservatories can be used as an extra living space. They are often connected to the kitchen or living room, making them ideal for entertaining guests or spending time with family.
Well-made and maintained conservatories can add value to your home. If you ever decide to sell, a well-designed conservatory can be a selling point for potential buyers.
As you can see, there are several benefits of using a conservatory. Whether you want to grow plants, entertain guests, or add value to your home, a conservatory conversion is a great choice.
Decorating Your Converted Conservatory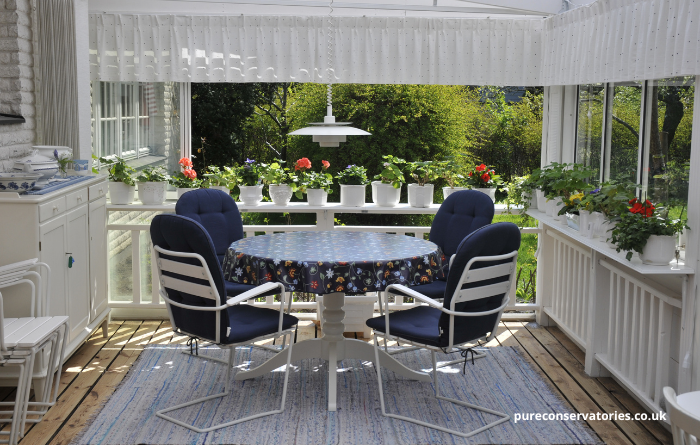 Before converting your conservatory, you need to think about what purpose the space will serve. Are you looking for extra living space? A home office? A playroom for the kids? Once you know how you want to use the space, have sorted the proper insulation and flooring, you can start planning the conversion and how you will decorate and furnish your new space.
Consider soft furnishings for the windows like curtains or blinds
Decorating the room in colours and textures to suit your personality or the function of the room will make you want to use it over and over again
Consider if you need seating or table space
Look into multi-purpose furniture if you have a smaller space so it can double up and meet a variety of needs
Choose furniture that is comfortable, inviting, will stand the test of time and makes you want to use the space
The finishing touches can bring everything together. Don't forget vases, pictures and plants to complete the look
Do I Need Planning Permission To Convert my Conservatory?
Planning permission is not usually required to convert a conservatory into an additional room in your home but there are some exceptions to this rule you should be aware of.
If your conservatory is located on the side of your house and faces onto a road, you will need to obtain planning permission from your local authority before carrying out any work. Similarly, if your conservatory is located in the front garden of your property, you may also need to apply for planning permission.
In most cases, however, it should be possible to convert your conservatory without the need for planning permission unless you're knocking it down and replacing it with a much larger structure or meeting the criteria above.
If you are unsure about whether or not you will need planning permission, it is always best to check with your local authority before starting any work and the good news is that the Leka roof system doesn't need planning permission to install.
Summary
Whether you think a conservatory is a brilliant bridge between your home and outdoor space or a wasted space that is too hot in the summer and too cold in the winter, then you may be wondering how to get the best from the conservatory with a conversion project.
We hope this article has given you some options to consider for ways to transform your home with a well-planned conservatory conversion. Whether you choose to simply update the room you have with a decorative make-over, or take on a project that replaces the roof  to tackle the issues that usually plague conservatory users, there is a conservatory conversion project for every budget.
To recap, LEKA is a solid roofing system that can be fitted to any outbuilding, transforming it into something special and unique. With our wide range of colours and styles to choose from, you're sure to find the perfect option for your conservatory conversion project.
Call today on 0151 327 8095 to speak with one of our experts about how we can help turn your old conservatory into something amazing! Our professional team can replace your conservatory roof quickly and with minimal fuss and we work with customers across the North West including Wirral, Liverpool, Southport, North Wales, Shropshire, Manchester and Cheshire.
Where Are You Based? 
We are based in the Wirral but serve the surrounding areas, see the following pages for more details about our services and where we offer them:
conservatories Liverpool, orangeries Liverpool, conservatories & orangeries Chester, conservatories & orangeries Wirral, conservatories & orangeries Warrington, conservatories & orangeries Southport
If you are not in one of these areas please get in touch. These are our main focus areas but we're happy to have a chat about working in your area.