How To Make A Conservatory Warmer
https://pureconservatories.co.uk/wp-content/uploads/2016/11/025-20151021-185805554.jpg
1024
683
Kevin Rigg
Kevin Rigg
https://secure.gravatar.com/avatar/a168b99a92cc25f70738184a4eca67aa?s=96&d=mm&r=g
Conservatories are notorious for being too cold in the winter and too hot in the summer (we have the solution for that by the way, check out tip #3 below). How can I keep my conservatory warm we hear you ask. Well, here are 10 simple pieces of advice on how to make a conservatory warmer that you can follow and use your conservatory all year round.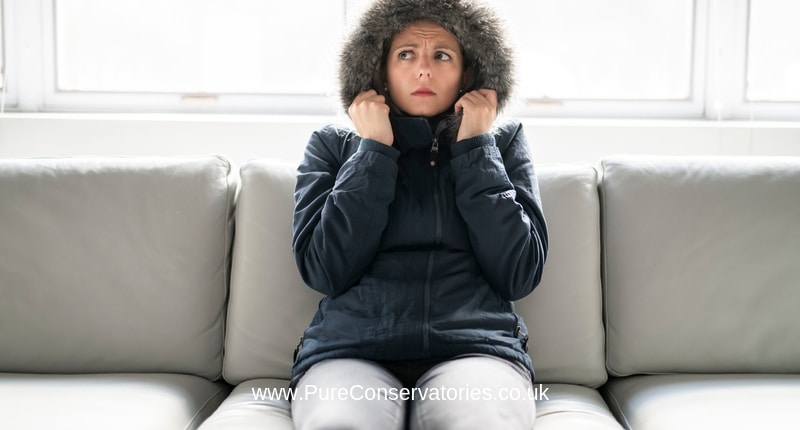 ---
Tip 1 – Your Glazing
Not all glass is created equal. Glazing is never going to be a perfect insulator but there are different grades of glass that can make a difference to how well insulated your conservatory will be.
We make sure that we only ever use the best materials when we build our conservatories or orangeries here at Pure Ltd.
A glass room is great for looking out of, you certainly get the best view of your outdoor surroundings but on a hot sunny day this has the dis-advantage that the sun easily shines through and heats the room up.
Glass is not the best insulator but different grades of glazing can make a difference, it's when all of the little things that you can do add up that you start to notice that you are keeping your conservatory warmer than before.
Unfortunately glazing is usually selected at the build phase and unless you are planning to rip the lot down and rebuild your options are slim.
It is also not the best thing to look at if you are looking for ways to keep your conservatory warm, have a look at the other options below.
---
Tip 2 – Check Insulation Gaps & Reveals
Hot air rises and naturally gravitates toward colder areas, this is basic physics at play but it's this very nature which can be a big cause for concern if you are trying to keep your conservatory warm.
Doors and windows left open unnecessarily and badly fitting reveal draft exclusion points including poor surrounds can contribute to the loss of heat.
A good solution is to ensure that you use an experienced and qualified fitter to begin with but if this time has already passed you should ensure that all of the draft proofing is not damaged and that your doors and windows are not left open (even by a tiny bit) if you want to keep your conservatory as warm as possible.
Cold air in your conservatory will cause the temperature to drop.
Warm air rises and naturally gravitates toward cold spots.
Look for breaks and poorly fitted draft exclusion points around doors and windows and have them replaced or repaired if required.
Do not keep doors and windows open unless you need to as this will contribute toward the loss of heat.
---
Tip 3 – Install A Leka Warm Roof System
Leka is a warm roof system which means you can now replace your glazed roof with a solid tiled roof combined with insulation and plasterboard to your ceiling. Effectively this is the equivalent of turning your conservatory into a building extension instead.
As explained in the last tip heat air rises and naturally gravitates toward colder areas and if you want to keep your conservatory as warm as possible there is no better way than to replace your roof with a warm roof system.
Here at Pure Ltd we champion the Leka warm roof system which is the leading product on the market when it comes to quality and peace of mind.
Heat rises and gravitates toward cold areas, you can prevent this by replacing your glazed roof with a solid type.
We install the Leka warm roof system which is the leading market product for people wanting to use their conservatory all year round.
---
Tip 4 – Your Furniture & It's Contribution
Cold air can circulate freely around an empty room but if there is furniture in there this restricts the amount of space it can move to.
Particularly if you choose to have sofas and other fabric material furniture this offers better insulation for absorbing and reflecting heat than a solid surface.
Fabric furniture may not be the best for warm days though so it can be a trade off between cold and hot days so a combination of appropriate furniture is the best way forward.
Your furniture and the amount of it can influence how the cold air moves around your conservatory.
Choose furniture that compliments your aesthetics but gives you the best compromise on hot days as well as cold ones.
---
Tip 5 – Blinds & Window Coverings
There are lots of different types of blinds and each have their own features, benefits and draw backs.
The most popular choice for conservatory blinds are vertical and venetian blinds.
This is because they have a range of movement which allows you to block or allow sunlight from entering the room.
Vertical blinds allow you to move the slats vertically and completely to the side which gives you a full view of the outside space. They can also be fixed at multiple points for particularly large windows.
The same is true for venetian blinds too except that these open their slats horizontally so have the restriction of either being open or closed as the sun moves around the sky, whereas with vertical blinds you can adjust their position as the sun adjusts giving you a better range of control over the amount of light entering your room.
---
Tip 6 – Improve your flooring
Your floor space is probably the biggest surface area in your conservatory and this will have a huge impact on how warm your conservatory stays.
We install a new type of flooring here at Pure Ltd but most older conservatory builds are completed with a traditional concrete base.
Once your groundwork is complete your only options really for improving your floor warmth further are:
Carpet
Tiles and underfloor heating
Lino or vinyl tiles
Wooden flooring
Underfloor heating can be installed prior to laying tiles and compared to having to dig the floor up to install pipework is relatively cheap and one way to combat a cold floor, remember too that heat rises.
If you install a carpet then it really will be worth you investing in good underlay, nice and thick and a carpet to match.
A deeper carpet will help your conservatory to stay warmer than a thin one.
---
Tip 7 – Think About How Heat Escapes
This is an obvious one and each situation will always be slightly different, we've covered the obvious ones but how do you think heat is escaping from your own conservatory?
Damp is a good one!
Water gathering can cause damp to form and this creates a cold spot which heat can gravitate to, by removing damp spots you can prevent this from happening.
Could you install curtains as well as blinds? How about keeping a door locked and the key away from the kids so they don't leave it open?
---
Tip 8 – Install Electrical Heating
If you didn't have plumbing installed into your conservatory when it was built then the installation of electrical heating is a good alternative.
Electrical heater tend to be noisy though so they're not perfect but they will get the job done.
There are lots of different types of heater on the market and you can choose one that fits in with the style and decor of your home.
---
Tip 9 – Install Water Radiators
The installation of water radiators is quite intrusive but worth the investment.
A radiator or two in your conservatory will definitely help keep it warm all year round and is not noisy like an electric heater.
---
Tip 10 – The Building Materials Themselves
Cheap materials can contribute toward a poorly insulated conservatory.
We make sure that our building materials are only ever of the highest grade possible and do not compromise on quality ever!
This does not mean that our services are more expensive though, it just means that we put quality first and because we don't have the overheads of some of the bigger companies you can get just as good if not better an installation than if you had paid a higher price.
Give us a call for a competitive quote – you won't be disappointed.
---
Summary
How to make a conservatory warmer. There are some ways that you can warm a conservatory up but by far the best way is to figure out how the heat escapes in the first place.
You can drastically cut down your energy bills and use your conservatory all year round by switching to a solid based roof and ensuring that the glazing you choose is a high enough grade to prevent heat from escaping too much.
There are other ways such as installing extra heating which can be done using underfloor heating and radiators.
You should also consider how the heat could escaping through gaps and joints such as doors being left open or older materials that are starting to degrade through natural age and may need replacing.
If you are just starting from scratch with your new build conservatory then you should give some serious thought to the quality of materials that will be used in the construction. Here at Pure Conservatories we design and build conservatories and orangeries only out of the highest grade materials possible and of course, we love the solid Leka roof system and strongly urge you to consider letting us install this for you so you can get the full benefit from your conservatory at any time of the year.
Where Are You Based?
We are based in the Wirral but serve the surrounding areas, see the following pages for more details about our services and where we offer them:
conservatories Liverpool, orangeries Liverpool, conservatories & orangeries Chester, conservatories & orangeries Wirral, conservatories & orangeries Warrington, conservatories & orangeries Southport
If you are not in one of these areas please get in touch. These are our main focus areas but we're happy to have a chat about working in your area.