Conservatories For Bungalows: Enhance Your Living Space
https://pureconservatories.co.uk/wp-content/uploads/Conservatories-For-Bungalows.png
700
445
Kevin Rigg
Kevin Rigg
https://secure.gravatar.com/avatar/a168b99a92cc25f70738184a4eca67aa?s=96&d=mm&r=g
Live in a bungalow but need a little more space to entertain, relax, or enjoy natural light & views? You may be wondering if options like conservatories for bungalows or if converting an existing conservatory could be the right route to make the most of your living space, and you'd be right!
If you're looking to enhance your living space whilst living in a bungalow, then look no further than a conservatory. These versatile structures can provide additional space that's usable all year around, add value to your home, and are completely customisable to suit the look and feel of your existing home.
With so many styles to choose from, and even the option to upgrade existing conservatories to include a solid roof construction, conservatories offer a cost-effective solution to improve your home without the need for a full extension.
____________________________________________________________________
Looking for a quote for conservatory roof replacement?
We currently serve areas in and around Wirral, Liverpool, Chester, Warrington and Southport.
Call 0151 327 8095 or send an enquiry to book a free no-obligation consultation. 
___________________________________________________________________
Style Options For Bungalow Conservatories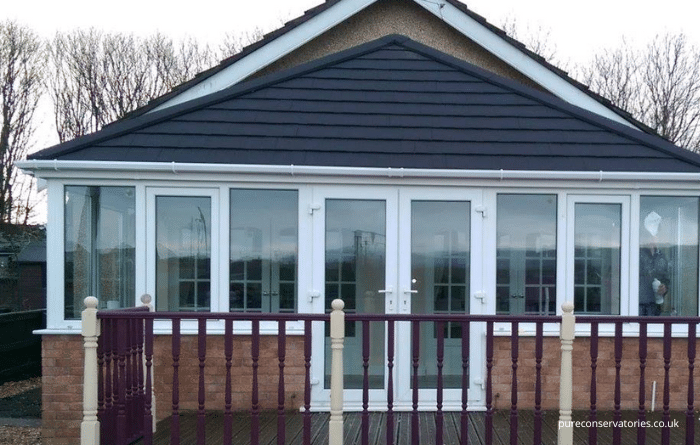 Depending on your architectural preferences, space constraints, and how you want to use the space, here are some of the best conservatory styles to choose from.
Lean To Conservatories For Bungalows
A lean-to-conservatory is a versatile small conservatory style for bungalows with limited space. It leans against the existing rear wall of the house, maximising the available space and creating a seamless extension. Lean-to conservatories can vary in size but will typically have a width of around 2 to 3 meters and a length that can be tailored to fit the available space.
Due to their simplicity and adaptability, lean-to conservatories are a cost-effective and practical solution for bungalows and homes with limited space.
Victorian Conservatories
A Victorian conservatory is a classic and elegant style of conservatory inspired by the architectural designs of the Victorian era. These conservatories are known for their ornate detailing, bay front, and steeply pitched roof.
Victorian conservatories typically range from 3 to 6 meters in width and 3 to 8 meters in length. The bay front design adds a distinctive curved shape to the conservatory and they often incorporate intricate crestings, finials, and decorative glazing patterns. Victorian styling structures typically have a steep pitch with multiple facets and are a popular choice for homeowners who want to add a touch of traditional charm to their homes.
Edwardian Conservatory
Edwardian conservatories balance classic charm and contemporary functionality for maximum living space. Typically ranging from 3 to 5 meters in width and 3 to 6 meters in length, they have a square or rectangular shape and are characterised by clean lines, symmetry, and a focus on maximising natural light.
The roof of an Edwardian conservatory is typically a low pitched roof, allowing for ample sunlight to enter the space. Large, rectangular or square windows contribute to the sense of openness and provide unobstructed views of the surrounding landscape.
Georgian Conservatories for Bungalows
Georgian conservatories are characterised by large, rectangular windows and a symmetrical shape, typically with a flat-fronted orangery style roof. The symmetrical design often includes a central entrance and includes refined detailing, such as decorative cornices, pilasters, and intricate glazing bars.
Gable-End Conservatory
Gable-end conservatories are perfect for bungalows where homeowners want to make a statement with their architectural design. This style is characterised by its high, vaulted ceiling and a distinctive triangular front, known as the gable end.
The triangular front, or gable end, offers an architectural focal point, often featuring large glazed panels that allow for abundant natural light. This style is well-suited for bungalows with a traditional or period aesthetic, as it complements the existing architecture with its impressive and eye-catching structure.
Orangery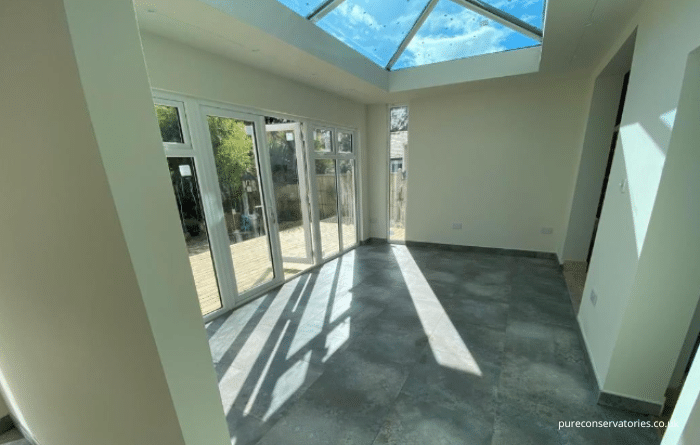 While technically not a conservatory, an orangery is another option to consider for bungalows. An orangery combines the solid construction of a traditional extension with the elegance and light-filled aspects of a conservatory. Originating from the Renaissance gardens of Italy, orangeries are characterised by their brick or stone pillars and large glazed panels.
They are particularly well-suited for bungalow owners looking to increase floor space with a style that combines brickwork and glazing, incorporating lantern roofs, and high-quality materials that match the existing architecture of your home.
What Type Of Roof Do You Need For Bungalow Conservatories?
Long gone are the days of poorly insulated conservatories covered by nothing more than a polycarbonate sheet. In recent years, solid roof options have gained popularity due to their enhanced insulation, improved aesthetics, and versatility but there are a few options you can consider;
Glass Conservatory Roof
Pros: Glass roofs provide excellent natural light, creating a bright and airy atmosphere. They offer unobstructed views of the sky and surrounding landscape. Glass roofs are a traditional choice and can be cost-effective.
Cons: Glass roofs may result in excessive heat buildup in the summer and heat loss in the winter. They require additional blinds or shading solutions to regulate temperature and control glare. Glass roofs may also be less thermally efficient compared to solid roof options.
Polycarbonate Conservatory Roof
Pros: Polycarbonate roofs are lightweight and cost-effective. They offer a diffused light effect, reducing glare and heat buildup and are available in various thicknesses and can offer some level of sound insulation.
Cons: Polycarbonate roofs may have a shorter lifespan compared to other materials and can become discoloured or brittle over time. They also don't offer the same aesthetic appeal as glass or solid roof options.
Solid Roof Conservatories For Bungalows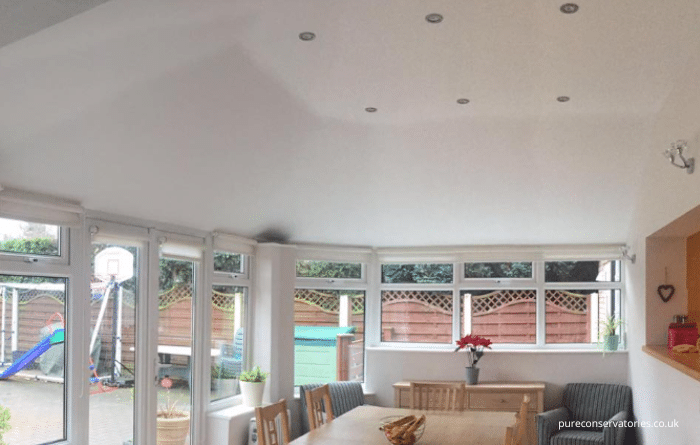 Pros: Solid roofs, such as tiled or solid panel roofs, offer excellent insulation, reducing heat loss in winter and heat gain in summer. They provide a more comfortable living environment and can help reduce energy costs. Solid roofs offer enhanced sound insulation, and minimising external noise, and come in a variety of design options, including different tile finishes, skylights, and roof windows.
Cons: Solid roof options may reduce the amount of natural light entering the conservatory, although skylights and roof windows can help mitigate this. The cost of solid roofs may be higher compared to glass or polycarbonate options, but the long-term benefits may outweigh the initial investment.
Solid roof conservatives that feature tiled or solid panels are increasingly popular due to their ability to transform a conservatory into a more usable and comfortable space throughout the year. These roofs can be combined with insulation materials, allowing for better temperature regulation and creating a seamless extension of your home.
They are often favoured for their superior thermal efficiency, durability, and ability to blend seamlessly with the existing architecture of your home meaning you gain what feels like a traditional extension for a fraction of the price!
_____________________________________________________________________
Looking for a quote for conservatory roof replacement?
We currently serve areas in and around Wirral, Liverpool, Chester, Warrington and Southport.
Call 0151 327 8095 or send an enquiry to book a free no-obligation consultation. 
_____________________________________________________________________
Modern Conservatories for Bungalows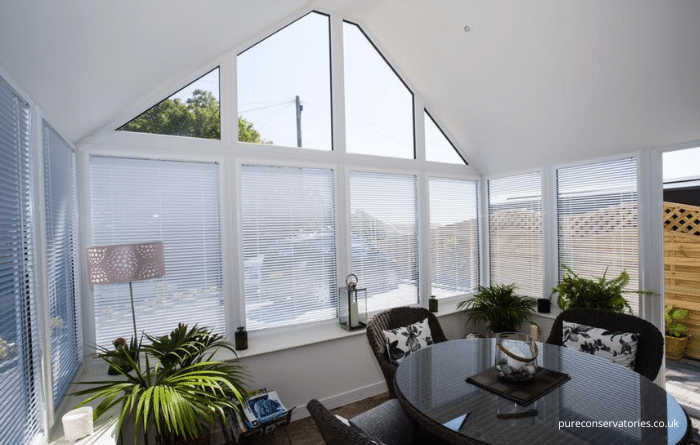 Modern conservatories offer a perfect blend of sleek design, functionality, and appeal. Incorporating a modern conservatory onto a bungalow can lift the overall aesthetics of the home while providing versatile living space. Consider these materials and styles for a modern installation.
Materials for Modern Conservatories
Aluminium: Aluminum is a popular choice for modern conservatories due to its strength, durability, and sleek appearance. It offers a slim profile that allows for larger glazed panels, maximising natural light and providing unobstructed views. Aluminium conservatories are also low-maintenance and highly resistant to corrosion, making them an excellent long-term investment.
Glass: Incorporating large glass panels or floor-to-ceiling windows is a key feature of modern conservatories. It allows for ample natural light, creating a bright and airy atmosphere. Opting for high-performance, energy-efficient glass helps with insulation and temperature control.
Solid roof: A solid roof, such as a tiled or solid panel roof, can enhance the modern aesthetic of a conservatory while offering improved insulation and a sleek appearance. Solid roofs provide a contemporary look and help regulate temperature, making the conservatory usable throughout the year. They can be combined with insulation materials to achieve better thermal efficiency.
Styles for Modern Conservatories
Flat-roofed conservatory: A flat-roofed conservatory exudes modern simplicity and clean lines. This style often features large glass panels with minimal framework, creating a seamless connection between the indoors and outdoors. A solid flat roof can be integrated for a modern look, offering a versatile space that can be used as a living area, dining room, or home office.
Orangery on bungalows: An orangery is a contemporary twist on a conservatory that creates a modern look. Combining brick or stone pillars with expansive glazed panels, large lantern roofs or flat roofs with skylights, all add a touch of contemporary elegance while providing ample natural light. A contemporary orangery can be tailored to match the existing design of the bungalow, offering a seamless and sophisticated extension.
Bungalow Extension or Conservatory?
When considering whether to add a bungalow extension or a conservatory to enhance your home, cost is a significant factor for homeowners. Generally, a conservatory or an upgrade to an existing one proves to be a more cost-effective solution compared to an extension due to less construction work and materials required.
Conservatories are pre-designed structures that can be installed onto an existing space, making them relatively affordable. In comparison, bungalow extensions involve a more complex construction process, often resulting in higher costs. Converting your existing conservatory is a great compromise between the two.
When deciding which route to go, it's important to consider other factors such as the intended use of the space, aesthetic preferences, and planning regulations.
Find out more: Should You Replace Your Conservatory With An Extension?
The Benefits of Solid Roof Conservatories for Bungalows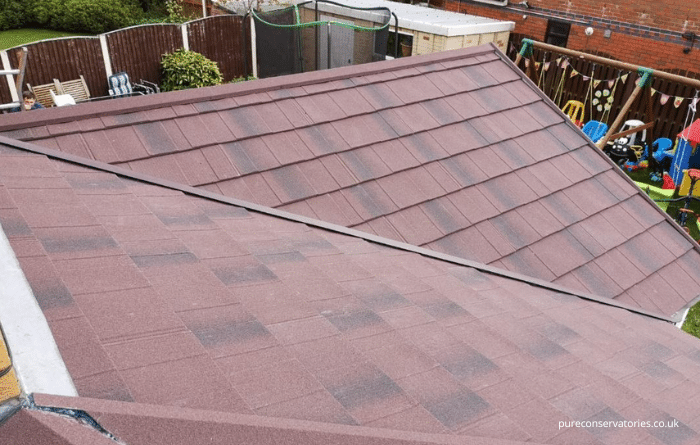 One of the best ways to enhance your living space is to install a solid roof on your conservatory. They offer superior insulation they offer compared to the traditional, glass roof or polycarbonate roofs and ensures that your conservatory remains comfortable throughout the year, keeping it warm in winter and cool in summer. This enhanced thermal efficiency not only improves your living experience but also helps to reduce energy costs.
Additionally, a solid roof construction minimises the noise from rain, wind, and other external factors, allowing you to enjoy a peaceful space. Whether you're using your conservatory as a living room, dining area, home office, or even a playroom, the solid roof ensures you can really get the most out of the space.
Valuable Conservatory Features
When you're planning what to include when installing your conservatory or improving an existing one, there are plenty of features, to choose from:
For dwarf wall bungalow conservatories, a key feature is the inclusion of a box gutter. This guttering system ensures efficient drainage, preventing water buildup and potential damage.
Bi-fold doors are a popular choice for conservatories, allowing for a seamless transition between indoor and outdoor spaces.
Other notable features that can enhance your conservatory experience include large windows, skylights, and roof vents, which maximise natural light and ventilation.
Underfloor heating and insulated glazing are also valuable additions, ensuring year-round comfort by regulating temperature and reducing energy consumption.
With a combination of these features, you can really enhance your bungalow and enjoy the beauty of your surroundings while adding valuable extra living space to your home.
Summary
If you're looking to enhance your living space while living in a bungalow, a conservatory could be the perfect solution. Adding a conservatory or upgrading an existing one offers numerous benefits, such as providing additional usable space, increasing the value of your home, and customisation options to suit your existing home's look and feel.
FAQs
What type of door can I use on a bungalow conservatory?
There are various bespoke door options for conservatories, including patio doors, French doors, bi-folding doors, and panelled doors. These doors offer different styles, functionalities, and opening options, allowing you to customise your conservatory entrance to suit your preferences and needs.
What window glazing technology choices do I have for my bungalow conservatory?
You have plenty of glazing choices for a bungalow conservatory including; double glazing, triple glazing, and energy-efficient glass. Each option offers different levels of insulation, noise reduction, and energy efficiency.
Can I add a conservatory to my bungalow without taking up too much floor space?
Yes, conservatories can be designed to fit smaller footprints. Whether you have a compact garden or limited outdoor area, a well-planned conservatory can be seamlessly integrated, creating a valuable additional living space without compromising the overall size of your property.
Can I customise my bungalow conservatory to match the existing style of my house?
Yes! Professional installers like our team here at Pure Conservatories have plenty of options available for customisation conservatories for bungalows. Whether your bungalow has a traditional, contemporary, or even unique architectural style, the materials, colours, and details of the conservatory can be customised to complement it.
Where Are You Based?
We are based in the Wirral but serve the surrounding areas, see the following pages for more details about our services and where we offer them:
conservatories Liverpool, orangeries Liverpool, conservatories & orangeries Chester, conservatories & orangeries Wirral, conservatories & orangeries Warrington, conservatories & orangeries Southport
If you are not in one of these areas please get in touch. These are our main focus areas but we're happy to have a chat about working in your area.