Conservatories have changed
Wirral conservatories are changing. Gone are the days of only being able to use your conservatory when the weather was just right. We are Wirral based Pure Ltd and we offer the revolutionary Leka roofing system which allows you to use the new space in your home all year round.
More energy efficient meaning you save on bills

Glare free even in the summer

Reduces outside noise including rain

Cosy and warm in the winter and colder months
The new Leka system has changed the way conservatories are designed and built, older traditional style conservatories are quickly becoming obsolete due to their energy inefficiency and lack of versatility when it comes to being able to use them as a permanent new room in your home.
Make your Wirral home stand out with a beautifully designed luxury sun rooms and conservatories tailored to your individual needs and create a new living space for your property that you will be proud of for many years to come.
Our team of experienced trades people are based in Wirral but can cover most areas within the North West. We can work with you to design a new conservatory with absolute minimum fuss and in good time. We pride ourselves on our high-quality customer service and this reflects in what our previous customers have to say about us.
The Leka 'Warm Roof System'
The Leka system has changed the way conservatories are used. Here at Pure we champion the innovative 'warm roof' system to give you our customer a cosy room you can use in winter which is cool and free from glare in the summer too.
Leka is arguably the best conservatory roof system available anywhere and we are proud to have this association. Our Wirral based time served and qualified trades people will give you a perfect plastered and painted internal finish and tiles to match your home.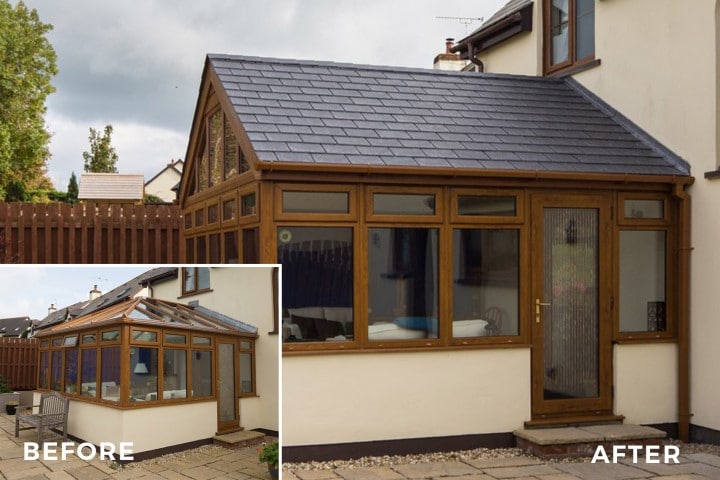 Construction
From the foundation through to the final flooring we only use market-leading products to build your conservatory meaning it will not only be built to a high quality but also look stunning too. The whole process can be finished in as little as just two weeks and we offer a 10-year guarantee on any work that we carry out.
ROOF
Our conservatory roof of choice is 'warm roof' system by Leka which has the lowest "U-value" on the market at just 0.15. It is a versatile lightweight system made to measure to your installation and is finished with internal plastering and external tiling to add to the aesthetic appeal of your home. Find out more about the Leka roof system here.
Base
Your conservatory base can be constructed using either a traditional concrete base or a modern prefabricated system which requires less intrusive groundwork which allows us to get around obstacles such as pipes or manhole's which otherwise would hamper progress. A prefabricated system has a low u-value of just 0.18 and is JHAI approved. Both methods are designed to improve overall energy efficiency and reduce heat loss.
Glazing
We use internally beaded custom fit windows for durability, strength and security. The windows we use are created bespoke to your build and we only use A-rated products of the absolute highest standard, we never compromise on quality.
Walls
A conservatory can have walling of a maximum of 50% glazed and these are traditionally built on top of a dwarf wall. We can construct your conservatory to have some full solid height walls ready for TV mounting or heating system installation or simply to hang some decorative pictures on to.
You can also choose to have your conservatory finished with special mood lighting, electric heating, log burners or other types of flooring. We can also install roof lights too if required.
Your Pure-installed conservatory
Reduced noise
One of the features of the Leka system is that it reduces overall outside noise including rainfall. When it is fitted with triple glazing and coupled with an insulated conservatory base your conservatory or sun room will be significantly quieter than a traditional type of construction which means you can use it all year round.
No glare or overheating
You may have heard that a conservatory can't be used in the height of summer due to amount of heat they retain often being described as greenhouses. With the Leka system you have a solid roof which prevents glare and helps keep the room cooler.
Minimal energy costs
Thanks to the Leka system your new conservatory will be significantly more energy efficient than a traditional build. They don't take much to heat, cool or provide light for either.
New build conservatory process
All of our customers receive a free, no-obligation visit from our team to discuss your various options. Your conservatory will be bespoke to your property and only use the very best products on the market.
Most installations take only 7 to 10 days with a further day or so for final cleaning and finishing. We pride ourselves on our customer service and will respect your home including any pets or needs that you may have at all times. We're more than happy to talk you through the process face-to-face to answer any questions and can come to you, we serve the whole of the North West including Warrington, Southport, Liverpool, Chester, Wirral and Wrexham to name but a few areas.
Our customer satisfaction is paramount to us which is why all of customers are asked to complete a feedback form once work is complete. We're also proud to offer an insurance-backed 10-year guarantee on all our work. All components of the Leka roof system have a 40-year warranty.
Ask us about finance
If you'd prefer to spread the cost of your new conservatory, we have finance options available.
Please ask us for more information.
Frequently Asked Questions
Do I need planning permission?
Not any more. So long as the local authority guidelines are adhered to. You should also be aware that if you want to sell your home at any point in the future the LEKA roof system does come with JHAI system approval to ensure you will not run into any issues.
Will a solid roof make my conservatory dark?
This is a common question and one that we're happy to answer. Because windows let in light if we remove the glass roof from your conservatory then it should be expected to experience some loss off natural light. However, your new solid roof can include, roof lights and electric lighting if required. When finished with a fresh coat of white paint, you'll be surprised how airy it feels – just look at our gallery.
How long will my conservatory take to be built?
Each conservatory build is different due to the size, shape and complexity of materials required. We can cover in detail how long it should take during our no-obligation quote. We're also always at the mercy of the great British weather!
What is an insurance-backed guarantee?
Our 10-year guarantee backs up our workmanship and materials used and covers you even if we cease trading or for whatever reason are unable to complete your installation. We are vetted and insured by HomePro and have an average rating of 9.3/10 (very high).
The way Wirral conservatories are built are changing and we're proud to be leading the way.
Testimonials
We can't believe the difference it's made! Our conservatory has become our main reception room.
Very happy with the job they did, makes a huge difference to our home. Friendly professional fitters.